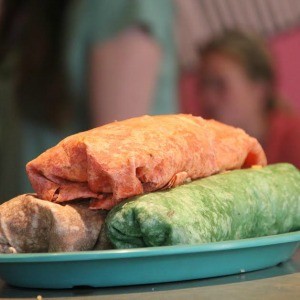 The tightly wound tortillas of Tacqueria Vallerta land them in the Top 10 once again.
What makes a great burrito?
A good tortilla is important, as is the quality of everything wrapped inside. But there's really no template or scorecard for this stuff. This Mexican-Californian culinary fusion doesn't just need quality beans and meat (and, if there are any, salsa, guacamole, sour cream and rice). The art is just as much about the way the thing is wrapped and how all the flavors work together. My last rankings of the best burritos in Santa Cruz County ran a year and a half ago, and inspired quite a bit of controversy. People around here are passionate connoisseurs of the burrito, and with that in mind, here is the 2014 edition of my burrito power rankings.
1. Taqueria Delicias 2, Watsonville
Super pollo burrito, $4.29
It doesn't even matter what you order at Delicias. You'll always drive away happy. I've tried the leanest meats and the greasiest—including cabeza and crispy tripas (head and intestines, respectively), and it's all amazing. But for my money, you can't go wrong with the light and simple chicken, which highlights the freshness of the burrito's avocado, tomato and lettuce. And their flour tortillas are always so tasty fresh, it's like they were made five seconds earlier.
2. Tacos Moreno, Santa Cruz
Super birria burrito, $6.50
When I left Tacos Moreno off my list last time, I got a lot of questions: "Why did you do that? Do you really call yourself a journalist? Where do you live, so I can throw al pastor at your bedroom window?" But see, I used to go to the Moreno at UCSC, when the taqueria had a location at Merrill College. And, hey, it was pretty good before it closed… but not, I now realize, as good as the original location on Water Street, with its crunchy tortillas and thickly marinated barbecue beef—far and away their tastiest achievement. Also in my defense: the location on campus did not serve barbecue beef.
3. Los Gallos, Scotts Valley
Super carnitas burrito, $7.50
Los Gallos serves its carnitas crispier than most places do. But that doesn't make for a dry meal. The burrito's interior has a decent helping of guacamole and sour cream, providing for a very balanced experience. And Los Gallos' near-perfect tortilla is moist and crunchy at the same time.
4. Trejo's Carnitas, Watsonville
Super carnitas burrito, $5
Trejo's Carnitas is often very crowded. And when I order, I'm usually the only person in the building speaking English. When it comes to the Watsonville food world, that's a very good sign. Tucked away inside this greasier-than-average tortilla is a little lettuce, and a dash of salsa, too. I recommend ordering "for here," so you can help yourself to as much salsa as you want.
5. Los Pinos, Santa Cruz
California al pastor burrito, $8.79
It took me a long time to figure out how a meal as massive as the Los Pinos California burrito holds together so well while being devoured. It appears the piping hot French fries melt the cheese that sticks to them and serve as rebar for the mouthwatering mix of meat, rice and beans within—thereby reinforcing the entire work of art. The cheese in this metaphor is, of course, the cement. Hmmm, probably could have come up with a more appetizing analogy for the county's fifth best burrito.
6. Taqueria Michoacan, Live Oak
Super carne asada burrito, $8.10
Taqueria Michoacan, pronounced "meesh-wo-kahn," has a lot going for it, including its tortillas. Like Gallos, its moist but crunchy tortillas could not be much better. Michoacan's have an almost cheesy quality to them. In my experience, the meat and guacamole here don't always taste as fresh as those from other taquerias on this list, but they're still good. The burritos are wrapped tight, and the layering of flavors is excellent. You could eat one of these on the Bomber Swings at the Boardwalk and not have it fall apart on you. (Maybe? I haven't actually tried that.)
7. Jalapeños Taqueria, Santa Cruz
Super chicken mole burrito, $6.50
I had a housemate from outside Mexico City who would not stop talking about how great the chicken mole and tortillas were in his hometown. One day after he got back from a weeklong trip, I brought him down to Jalapeños for a couple chicken mole tacos. I didn't hear about Mexico City again for a while.
8. Fidel's Mexican Food, Watsonville
Super chile verde burrito, $5.50
This used to be the site of Hector's Mexican Bakery. The restaurant owner leased the spot on Airport Boulevard from burrito wizard Hector Garcia and bought his recipes, too. But when Hector's Mexican Bakery moved to the corner of Highway 152 and Hoolahan Road about six years ago, Garcia re-opened his own shop here and named it after his son Fidel. That other "Hector's" used to have the best tortillas in the county until recently, and even topped our burrito list last year. But after opening and closing at its new location a few times, the flavor hasn't been the same. We've got to go with Fidel's and its tasty, chewy tortillas—not to mention that tender chile verde soaked in green salsa.
9. Taqueria Vallarta, Santa Cruz
Lengua super burrito on a spinach tortilla, $7.15
Sorry, Cruzmatic and Eliquate, the best "wrap group" in town is behind the counter of the downtown Taqueria Vallarta. The burritos are so tight. The layering is perfect. Order the cow tongue. That's whassup.
10. El Frijolito, Watsonville
Chile relleno burrito, $4
Diehard Watsonville foodies have made El Frijolito—sometimes dubbed "The Hole in the Wall" by gringos—one of the best-loved places to eat in the South County. The burritos aren't the most dynamic and don't always blow me away with their flavor, but their pinto beans and flour tortillas are practically famous. Last time I ordered a chile relleno burrito to go. Just a couple more tasty bites, and I'll save the rest for—but I can't, and it's gone. Now my hands are covered in tasty red sauce, hmmm.
Honorable Mention:
Del Pueblo Market, Santa Cruz; Super carne asada, $4.99.
Taqueria El Dandy, Santa Cruz; Super cabeza burrito, $5.
La Rosa Market, Watsonville; Super lengua burrito, $4.99.
Los Pericos, Santa Cruz; Super shrimp burrito, $7.75.
Planet Fresh, Santa Cruz; Surf and turf burrito, $7.50.