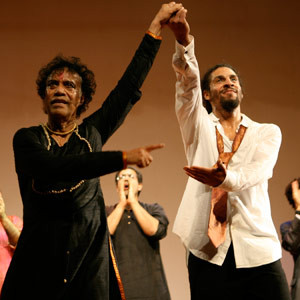 Chitresh Das and Jason Samuels Smith in 'UPAJ.'
There are few people as qualified to direct a movie about kathak as Antara Bhardwaj. Now 34, she has been studying the art form—a classical Indian dance tradition that took shape in the 16th century, though its roots have been traced back to the third century BCE—since she was nine years old.
She performs kathak regularly, including this past summer in Santa Cruz as part of the Fringe Festival. Born in San Jose and now living in San Francisco, her teacher and most important influence is Chitresh Das, the kathak guru at the center of the documentary UPAJ: Improvise, which closes the Pacific Rim Film Festival on Wednesday, Oct. 23, at the Rio in Santa Cruz.
Ironically, that's exactly why she couldn't direct UPAJ.
"I do have a directing background myself, but I specifically chose not to come on as director for this project, because (a) I'm a full-time dancer, and that's what I'm trying to pursue in my life, and (b) I just felt like I'm a little too close to the subject to be able to give myself any distance," says Bhardwaj in a phone interview. "So I felt like coming on as producer was kind of a perfect balance for me."
So that's what she did, finding in the process a film that finally connected her film life and her dance life. That's how Hoku Uchiyama—a half-Japanese, half-African American director who also grew up around dance (his mother is a celebrated Tahitian dancer who founded the Mahea Uchiyama Center for International Dance in Berkeley)—came in to direct. What he's delivered is a film that is far from a typical movie about dance, telling as it does the story of hip-hop-influenced tap dance prodigy Jason Samuels Smith (in his mid-20s when filming began, and now 33), and how his improbable collaboration with the 69-year-old Das became a phenomenon.
The documentary starts with Smith, struggling with the death of another of his greatest influences, and searching for direction. The story is told through his eyes, and the journey is his journey. In his collaboration with Das, the two begin to work towards forging a whole new dance form, one which unapologetically fuses two traditions that were never meant to meet. It takes them on a tour through India, which is of course a culture shock for Smith, bringing a road-movie element to the film.
A number of themes weave through the story—from the disappearance of Indian classical arts, which have been replaced in Indian pop culture by Bollywood's influence, to the rise and fall of tap, to a consideration of India's social fabric and how it compares to America's. Though it would seem to be about the culture clash between Smith and Das, various revelations throughout make it clear that they're far more similar than different.
In the end, the film is about something even bigger, though. It's not just about motion, as any film centered on dance should be. It's about straight-up refusal to rest. It's challenging to find any shot in this film in which someone is not moving, even when they're being interviewed. Legs shuffle, streets bustle, arms gesticulate. Smith turns out to have an insane work ethic, practicing tap nearly every waking minute.
And Das, well, he shows the most resistance to rest of all. Not satisfied with the notion of retiring a cultural giant, he pushes himself to extreme lengths.
"It's crazy because Das is 69 now. And he is on fire," says Bhardwaj. "We're less than half his age, most of us, and we can't keep up with him. He's pushing himself constantly. It's crazy, because they do this one-and-a-half-hour show, and I think Jason is as tired if not more tired than Das by the end of it."
It's clear that neither Das nor Smith will be satisfied until they've created something no one has seen before—which they do. For Smith, it meant learning a whole new rhythmic scale, one which is cyclical, rather than linear. Das had to adapt as well.
"It's not like he's going to put on a pair of tap shoes, and Jason's going to put on ghungru, and they're going to do their thing together. They both stay totally true to their art form," says Bhardwaj. "But I've seen Das' footwork change in the last few years, and he says, 'Yeah, I had to when I was dancing with tap. I couldn't just do the same footwork we do in kathak all the time, I had to push it.' So he's come up with these different techniques, in order to be able to hang with tap. But it's still kathak."
It might seem that a movie about kathak would be a far more difficult sell in the U.S. than in India. But as a member of Das' dance company, Bhardwaj knows that, sadly, the opposite is true.
"I have to say, American people are really open. They're like, 'Sure, let me try something new,'" she says. "Then we go back to India and say, 'Come check out our performance,' and they're like, 'Oh no, kathak's boring.' Because they've seen some artists in India who are really not good. Unfortunately what's happening out there is that in an attempt to reach out to the youth, or stay hip or whatever, people are trying to dumb down the art form. They're trying to make it more accessible, but actually what's happening is it's becoming just watered down and bad."
She's heartened by the reaction she's seen to Smith and Das.
"You see it in the film. Every single performance I went to, people were just blown away by it, and they're like, 'Wow, I didn't know classical art could be this interesting and exciting, and relevant.'"
The pair will perform after the Pacific Rim Film Festival screening (which is a benefit for the festival), then do a Q&A in which Bhardwaj will also participate. The meeting of these two big personalities, she says, is every bit as wild as you would think from watching the film.
"It's really incredible seeing their chemistry in real life. They are hilarious when you put them in a Q&A together," she says. "It's one of those things where it could go on all night, and we have to just end it, like, 'All right, guys, it's over.'"
UPAJ: Improvise will be shown Oct. 23 at 7pm at the Rio Theater, as part of the Pacific Rim Film Festival.