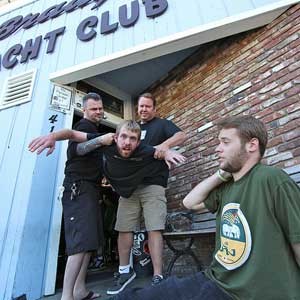 The Dive Team completes its investigation of Brady's Yacht Club. (Photo by Chip Scheuer)
Originally published on June 5, 2012 in Santa Cruz Weekly and updated on February 22, 2016 by the Good Times Web Editor. 
The season  is upon us. The days are now longer, the nights are warmer and the college students are about to leave—although the few who stay will soon discover the perfect summer pastime and (if they're lucky) may even assimilate into this local tradition themselves. Summer is the time of dive bars. It's warm enough for a pitcher on the patio or to simply walk to your next destination. You can always get a table.
But where to start? Let's open with a few simple parameters, beginning with what makes a dive. It usually boils down to good drink prices and friendly people. Pool tables, dartboards, a jukebox and a slightly smoky atmosphere don't hurt a bit. A good dive usually has more grumpy old men than the Sentinel's online comments page. And while occasional live music is allowed, the diveyness of the bar itself must remain the top attraction.
When we embarked on our tour, we wanted to create the perfect scoring system. Like a good beer, we broke down each bar by smell (outward appearance and first impressions), mouthfeel (its inner feeling and collective mood) and taste (drink variety, prices and any food). See Dive Bars Scoring Criteria.html for more on the scoring system. Ratings are out of a possible 5.
We learned some important lessons along the way. First, with more than 15 dives in a county of 260,000 people, Santa Cruz is well represented in this department. (It used to be even more well represented; for a few kind words about dearly departed dive bars, including The Avenue and the Silver Bullet, click here.html.) Second, many dives come in geographically close pairs (Sir Froggy's and JJ's; Callahan's and Jury Room), but oftentimes devotees of one wouldn't be caught dead in the other. Third, the best bars really are neighborhood bars, where, as the Cheers theme song famously puts it, everybody knows your name.
Last, going to every dive bar in Santa Cruz County might sound like a lousy mission. Well, maybe it is. But you meet amazing people on the journey.
Readers who think they're ready for their own tour should first get a designated driver. Avoid making early Sunday plans just in case the escapades lead to more of a feature-length Hangover-esque adventure. And consult our study sheet before taking any chances.
Brady's Yacht Club 413 Seabright, SC
Smell 4.5; Mouthfeel 5; Taste 4.5; Overall 4.7
Jake: People at Brady's are outgoing and mostly friendly. Some nights are rougher than others, though. On one occasion I was twice put into a headlock in mid-conversation by a coked-out, washed-up surfer dude (I talked my way out of both moves, of course). What's difficult to say is whether this bar and its divey atmosphere excel in spite of such elements or because of them. And it's worth noting the hilarious irony in calling this a "yacht club," a term usually reserved for highly organized nautical elitists with day jobs.
In a close match we lost a game of pool to a sunglasses-wearing Gordon Lightfoot lookalike who might have stepped out of a time machine, or maybe a 1970s surf documentary. People in every corner of Brady's, from the back parking lot to the bathroom sink, ask others how their night's going. And bartenders like the always-charming Jesse Lillifjel.html take good care of their customers.
Robert: Brady's is an awesome place to hang out with old friends and meet new people. It's got everything: a heavy dose of tattoos, smirks, toothless grins, drunken scowls, foamy beards, Torpedo on tap and some drunken surfers who can barely stand up but somehow still kick your ass at pool. To me it's the perfect dive bar because it has the intimidation factor mixed in with some chummy commiseration. Definitely the place to be when last call comes around.
Monty's Log Cabin 5755 Hwy 9, Felton
Smell 4.5; Mouthfeel 4.5; Taste 4.5; Overall 4.5
Jake: It took guest judge Ray Montezuma a half hour to offer his analysis of Monty's, which keeps its outdoor Christmas lights up year-round. "Hey man, this place feels like a house party in a cabin," Montezuma pondered, "but in a good way!"
The people at Monty's have stories to tell. Across the street from Henry Cowell Redwood State Park, it is one of the friendliest dive bars in the county, but it can be shy at first. Sometimes it takes a little time and initiative to make mountain introverts want to open up and talk to someone new. Once everyone is libatiously lubricated, though, people are more than happy to share perspectives over a game of pool or at one of the bar's two outdoor fire pits.
Of course for most of us, this dog-friendly Felton destination is a long drive from civilization, and a trusty designated driver might be hard to come by. Lucky for Monty's regulars, though, most patrons seem to live within a couple blocks of the bar—part of what gives this neighborhood joint its flavor.
Robert: Monty's wins the best first impression award by far. Why? Because it's an actual log cabin, complete with two fire pits in the back. You mean to tell me I can drink good beer and hang out by the campfire while swapping horror stories with locals, and I can bring my dog? Next time I'm going to bring my sleeping bag. I'd give the Log Cabin two thumbs up, but I've forgotten which direction that is. So has everyone else, and they know what I mean anyway, so just come and see for yourself.
The Pocket 3102 Portola Dr, SC
Smell 4; Mouthfeel 4.5; Taste 4.5;  Overall 4.3
Jake: Now here's a pleasant surprise. The first time we walked through the Pocket's front door under a glowing green letter "P," a well-built black man towering over us asked, "Do you guys have your IDs?" We fumbled for our wallets. "Show them to the bartender," Lamont said with a grin. That sent the smoke-break crowd around him into hysterics. Lamont, who'd only give us his first name, isn't a bouncer, just a typical Pocket jokester. When you're a newbie to the Pocket (formerly Carl's Corner Pocket), your first 30 seconds might be dominated by locals reminding you you're an outsider. Once that's over, they'll probably spend the rest of the night trying to make you feel at home.
Robert: The best thing about the Pocket is the people, straight up. I hadn't even gotten inside the bar before the locals started screwing with me, only to buy me a drink and slap a pipe in my mouth, just so they could screw with me a little more. But really, they had some great stories, were really friendly and treated us like old friends they hadn't seen in a while. It also had a great feel to it, some awesome decorations, and they served Torpedo on tap in red cups rather than pint glasses (a new dive high/low, depending). It was like a more grungy, genuine version of Cheers, but with more tattoos and the smell of ocean blended with nostalgia. Best bar on the Eastside.
Sir Froggy's Pub 4771 Soquel Dr, Soquel
Smell 3.5; Mouthfeel 4; Taste 4; Overall 3.7
Jake: If you can get over some of the exorbitant "premium" beer prices ($6.50 for a pint of Guinness or Blue Moon really kind of disqualifies it from dive bar status), Sir Froggy's, right next to Soquel Creek, is a pretty awesome joint. It's fun yet relaxed. And its cocktail prices are reasonable. One stranger bought five (count 'em, five!) rounds of Jäger bombs for everyone. That's a lot of Red Bulls and a lot of booze. "Nothing is more evident of the transcendental, existential nature of the world than taking Jägermeister shots with a bunch of strangers," guest judge Montezuma opined. "We qualify our existence with our collective confusion and listen to a powerful, uniting ballad."
Meanwhile, a pool opponent accused our team of being "homosexual" because we were giving each other too many hugs. But by the end of the night, we turned him around: that same man told us there was nothing wrong with our bromantic "lifestyle." That's us—changing people's perspectives and patting backs every step of the way.
Robert:This is a great bar, not too crowded, not too intense, good beer, some locals to play pool with and a sense of intimacy that is lost on most other places. What I really like about this place is that the music is just the right volume to be able to carry on a conversation across the length of the bar and not interrupt anyone else. The drinks are a bit overpriced, but it makes up for that in character. It's also home to Jessica Sweeny, our winner for the cutest bartender award (See Dive Bar Hall of Fame). Sir Froggy's is a bit more tame than other dive bars, but it fills that niche perfectly. A fun place to be if what you really want to do is just hang out and be yourself.
The Rush Inn 113 Knight St, SC
Smell 3; Mouthfeel 4; Taste 3; Overall 3.3
Jake: The Rush is renowned for having the friendliest service in the county. Bartenders like Nate Krohn, Brian Rucker and Molly McVeigh make an effort to remember customers' names. This downtown bar lends itself to amazing conversations—about life, journalism, music, literature and Santa Cruz. McVeigh, who also works at the Crepe Place and the Red Room, assured me it was OK for me to drink the leftover Budweiser of some very "clean" guy who had left for band practice a half-hour earlier. "This is literally the oldest bar in Santa Cruz," patron Jennifer Sharpe said over one of our tour's less competitive pool games. "I came here for the historical factor. It's definitely not a pickup joint."
Robert: The Rush Inn is a pretty friendly, pretty fun dive located on the back end of Front Street near the clock tower in downtown Santa Cruz. It's filled with cool people, has a cool atmosphere and it even claims its own specialty beer. I found this place to be the most archetypal dive bar. If you live or work downtown, this is a place you should hit up at least once or twice.
One Double Oh Seven Club 1007 Soquel, SC
Smell 3; Mouthfeel 4; Taste 3.5; Overall 3.5
Jake: Relentless defenders of this Soquel Avenue joint will go to great lengths to defend its alleged non-dive factor—calling it either a "sports bar" or a "smoking parlor" (it's legal here). Since we consider the "dive bar" designation to be a compliment, we'll override their protestations.
The One Double Oh Seven, or "Double O" for short, has good-priced drinks, a shuffleboard, foosball, golf putting and lots of dartboards. And it is definitely one of the best places in the county to watch an impressive pool game. Patrons in the game area are often energetic and in a good mood, while the bar counter offers a more relaxed atmosphere. Cheap beer pitchers and lots of TVs make it a nice place to watch a sports game.
Robert: The One Double Oh Seven is a great place to go if you want to lose all of your money and have a great time doing so. They have way too many games, and by that I mean they have just the right amount; more than you could play in a single night and still remember them all. Out of all of the bars I have been to, the One Double Oh Seven is the one that taught me how bad at pool and darts I really am. "What do you mean you hit three triple twenties? I haven't even gone yet! Asshole." And even though it really is more of a games hall than a dive bar, the people have just enough crust to warrant a look over the shoulder every couple seconds or so. I highly recommend this place if you are the type of person who doesn't like to just drink and talk, or you can throw a dart straighter than you can walk.
Callahan's 507 Water St, SC
Smell 3.5; Mouthfeel 3; Taste  3.5; Overall 3.5
Jake: On the weekends Callahan's can turn into a biker bar. On the weekdays it's more laid-back but still not quiet. The classic metal tunes blasting on the jukebox would be even more righteous if they were turned down a couple notches, but there are two pool tables (one of them decked out with Jack Daniels décor) and occasional concerts too.
Robert: Callahan's has a great divey feel right off the bat because it's dark, smoky and blasting old-school '80s hair metal. The people are a mix between old-timer locals and a young group of kids out for some reminiscent fun. It has a wonderfully genuine aura about it that kind of catches you off guard with how comfortable it is. Simply put, it's a neighborhood bar, filled with good people and mediocre booze. It's the exact type of place you want to be after a long week or a longer weekend.
The Jury Room 712 Ocean St, SC
Smell 3; Mouthfeel 3; Taste 4; Overall: 3.3
Jake: Finally, a place that actually offers a free pool game. Patrons can actually pick billiard balls out the leather pockets instead of waiting taking them out of the bottom like some demented Chuck E. Cheese game. The drinks here are cheap too. Other than that, the ceiling's low, the fluorescent lighting is dim and the crowd can be damn depressing. I once saw a guy here set a dollar on fire in a statement of how money isn't real.
Robert: The Jury Room is the only bar in Santa Cruz that is open at 6am. It's a working man's bar, mixed with a slight hipster crowd out for a late-night round. You can play pool, smoke to your heart's content and never feel bad about your outward appearance. It's got decent music, a decent selection of brew and the best mustache in town, courtesy of Marv the bartender. If there is one thing the Jury Room has to offer over everything else, it's consistency. Always expect a couple of yappers, a couple of players and a couple of oldtimers to keep you company. In a funny way the Jury Room is a lot like a real jury—as diverse as it is predictable, as fun as it is tame.
Windjammer 1 Rancho Del Mar Shopping Center, Aptos
Smell 3.5; Mouthfeel 2; Taste 3.5; Overall 3
Jake: Starting with the negative, the pool table is positioned basically against a wall next to some dartboards, and it isn't even level. "This pool table's janky as fuck," Robert complained over a pint of Torpedo. "The cues all suck, it has a lean and it's positioned so that you can't take a shot."
Having said that, it isn't a bad place to play darts. And it has an impressive beer selection, with Blue Moon, Anchor Steam, Kona Longboard, Stella Artois, Torpedo, Fat Tire and Sierra Nevada all on tap—and a pleasant mix of different ages and personalities.
Robert: The Windjammer is cool, but not that cool. It feels like the Aptos place to be on a weekend but it suffers from being a little overcrowded. Yes, everyone is friendly and willing to talk, and yeah, they have Torpedo on tap (major plus), yet there was this lingering feeling that outsiders were more of a spectacle than commonplace. Also, their pool table is near worthless because it too close to the back wall, has a noticeable tilt and is right in the middle of two dartboards. You can have a fun night here, but I wouldn't go out of my way.
The Mediterranean  265 Center St, Aptos
Smell 2.5; Mouthfeel 2.5; Taste 3; Overall 2.7
Jake: This is a quiet, relatively slow bar with a nice jukebox. Plus, it looks quite cool from the outside. One man, who used to own a pool hall in Gilroy, beat Robert in two turns. This is a great bar if you live in this neighborhood or if you spent the day in Aptos or at the beach. It's also stumbling distance from the Sno-White Drive-In, one of the best burger joints in the county. It's a nice place to relax over a cold beer with some old friends in hopes of making some new ones.
Robert: The Mediterranean is another bar with a pretty laid-back atmosphere. It would be hard to imagine it getting too crowded, and the people there are more inclined to laugh deeply than offer a half-hearted smirk. It's got a good pool table and some great players to match, and only one or two of the patrons can be seen muttering to themselves. It's a bar where you go to feel comfortable, sit back, take a load off and have a couple of drinks. No complaints here.
J.J's Saloon 4714 Soquel Dr, Soquel
Smell 3.5; Mouthfeel 2; Taste 2; Overall 2.5
Jake: "I want you to rack those balls up tighter than my first wife," a pool shark here told guest judge Montezuma as he got ready to break. This is an awesome place to play pool, shuffleboard or darts. It gets good points for smell because the first thing you see is the shuffleboard at the front door. The name and neon sign ring of divey connotations. But camaraderie in the bar is low, and it has the grumpiest bartender (or server of any kind) I've ever encountered. Still, they'll let you have Domino's Pizza delivered to the bar. There's a nice beer selection too.
Robert: The crowd at J.J.'s Saloon is a little rough around the edges, but in a good way. It's as if everybody as a chip on their shoulder, including the bartender. The people are easygoing but can see through bullshit a mile away. The music is good, the atmosphere is relaxed and it has the only curling shuffleboard table I have seen, which by the way, is awesome. All in all, it's a great place to stop into every now and again, because sometimes you just want to be real.
Seabreeze Tavern 101 Esplanade, Rio del Mar
Smell 2; Mouthfeel 2; Taste 2; Overall 2
Jake: This place is about as far under the radar as a bar can possibly be—so much that both judges weren't even able to make it here before our deadline. We didn't even find out about it until we grabbed a beer at the Mediterranean, where Seabreeze Tavern owner Rich McInnis drinks on the off nights. That's right: the Seabreeze is only open Friday through Sunday.
For what it is, this place is top-notch. There's a pool table, a decent beer selection and a patio where bands sometimes perform. It also has a good location—in the parking lot of Rio Del Mar beach—and a friendly owner in McInnis, who recently ran for second district county supervisor.
The Asti 715 Pacific Ave, SC
Smell 1.5; Mouthfeel 1; Taste 2; Overall 1.5
Jake: The "Nasty" is so fortunate to have one of the least clever nicknames in all of Santa Cruz. The bar has earned it, too, with super dim lighting, more cigarette smoke than you can cut with a knife and a really gross bathroom. The walls are as littered with beer neon signs as patrons' arms are with tattoos.
Regulars play classics on the jukebox, though, and at least it has a Simpsons pinball machine, based on America's longest running cartoon.
Robert: The Nasty Asti has a big reputation in downtown Santa Cruz, but I found it to be a little underwhelming. I mean, don't get me wrong, it's pretty grimy and definitely feels like a dive bar on entering, but it lacked that sort of inviting atmosphere that I look for in a good dive. Instead, the Asti felt like a place where people go to hang out with the people they already know, not to meet new people. They did have a good number of pool tables, a decent selection of beer and cocktails, and it wasn't expensive. Oh, and I also could see how someone might get stabbed here.
Castaways 3623 Portola Dr, SC
Smell 1; Mouthfeel 1.5; Taste 1.5; Overall 1.3
Jake: This place felt too trendy to even be a real dive bar. There was Top 40 music playing. The bartender was cute but done-up, and there was a couple grinding and making out on the far side of the bar. At least the bathroom was all chalk with messages written from one patron to another, but there is no chalk to be found for people to add their own contributions.
Robert: When I hear the name "Castaways," I think of lost and forgotten old men, drinking for the sake of being drunk. Instead, it was full of a bunch of middle-aged hipsters with plenty of teeth and too much free time. You also couldn't smoke inside, and their patio reminded me of a coffee shop rather than a dive bar. To make matters worse, they were playing club music on the jukebox (insert shitty techno beat here), which is dive blasphemy, or the equivalent to being beaten to death by a rainbow pool cue (the wrong kind of colorful). Anyway, if you live in the area but still take yourself too seriously to hit a real dive bar, then Castaways might be the place for you. 'Cause we're thinking they're not even trying to be a dive.
Over the Hill Gang Saloon 3530 Portola Dr, SC
Smell 1.5; Mouthfeel .5; Taste 1; Overall 1
Jake: This aging shoot-from-the-hip joint doesn't even have a pool table. It has a TV, a jukebox and a plastic dartboard with nowhere to keep score. It does come complete with real wooden saloon doors outside, and the interior looks as campy as an attraction in Disney's Frontierland. It has no beers on tap and is very much in the running for emptiest dive bar in the county.
Robert: Over the Hill Gang has seen some better days. The decorations and background music feel like they're straight out of the Old West, with John Wayne's face plastered up in a couple of portraits and the juke box blaring some twangelicious slide guitar. It could be fun, if you happen to catch it at the right time with the right crowd, but other than that it really doesn't have much to offer. It has a pretty narrow selection of beers, no pool table and a plastic dartboard. Yet what really sticks out is the unique sense of sad nostalgia it gives off. Unlike other dives, which give you a brief taste of "them good ole days," Over the Hill Gang is squarely focused on lamenting their passage. This sort of "things ain't what they used to be" sadness is really kind of off-putting, unless, of course, you feel that way, in which case the beers-to-tears ratio is probably right up your alley.
Ye Olde Watering Hole 2405 Mission St, SC
Smell 1.5; Mouthfeel .5; Taste 1; Overall 1
Jake: The "Watering" on this establishment's blue-lit sign burned out years ago, and it was never fixed. The owners probably wouldn't want to give passersby the wrong impression. Like Over the Hill Gang, this institution has zero beers on tap.
It's usually either jam-packed or dead-slow—usually the latter. When we left at 11pm on Friday night, no one was left except for the bartender.
Robert: Known affectionately as "The Hole," this place is really what the classic dive bar is all about, if you were on an interstate highway 10 clicks from nowhere. They might as well have tumbleweeds blowing across the bar. On the bright side, they do have a good sound system, and if you're at the point where you've got nothing left to live for, then you're wrong, because a nice hole in the wall might be just what you need.