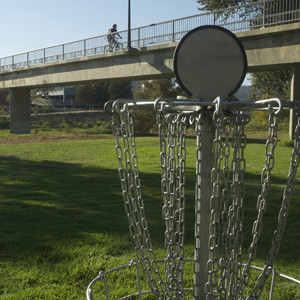 Santa Cruz installed a new disc golf course this past summer near the San Lorenzo River. (Jacob Pierce)
The San Lorenzo River levees are notorious for their beer cans, cigarette butts and remnants of leftover encampments. But with the election approaching and public safety issues on voters' minds, the levees have Santa Cruz City Council candidates brainstorming about creative ways to remove these stigmas and shore up the bastion of natural beauty.
Council candidate Steve Pleich's suggestion is levee-facing businesses. He envisions kiosks between Highway 1 and Soquel Avenue on the river's northern side, somewhere between Trader Joe's and Office Depot. Increased traffic, he hopes, would allow residents to feel comfortable along the scenic river's paths and reclaim the area. "I think it's a shame we don't maximize that resource," Pleich says. In terms of new businesses, he's not entirely sure how easy it will be to comply with existing planning codes, but he wants to try.
Candidate Pamela Comstock, cofounder of Take Back Santa Cruz, would like to see farm-to-table dinners on the levee. Nearby farmers and restaurants could bring fresh produce, she says, to eager locavores sitting down for a meal.
"It needs a lot of work," Comstock says of the levee. "It's not a place of pride for us right now. It's constantly filled with debris, and there's criminal activity."
Mayor Don Lane, who's running again for council, says progress has been made. The city has mowed the levee grass, painted mile markers on the paths and installed a disc golf course in San Lorenzo Park. Police also increased their patrols this past summer, he says.
At a recent council forum, Lane even floated the idea of bringing food trucks near the levees—an idea he credits to Vice Mayor Hilary Bryant, who's been working on the plan for over a year. Hard to imagine people could someday think of the levee as the best place in town for a hot dog.