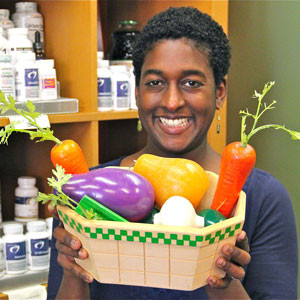 Dietician Jocelyn Dubin of Nourish in Santa Cruz. Photo by Chip Scheuer.
I've never been one to ignore the bread basket. On the contrary, I'm usually the first to dive, shamelessly, to uncover the warm and satisfying lumps swaddled inside. The height of irresistibility, for me, lies in the chewy, dark-crusted loaves of New York City's East Village restaurants—sliced, steaming, into thick and spongey slabs to be dabbed with butter or pushed through a drizzle of olive oil.
Now, in the second week of a gluten-free diet, I'm hurtling at 400 mph towards the epicenter of rustic bread loaves, where I'll face the first challenge in an otherwise easy transition to a gluten free diet.
My purpose was twofold; to witness the dietary trials of a person living with Celiac Disease, and test out the claims of those who have jumped on the gluten-free train—all of those healthy individuals that report everything from clearer skin and lifted brain fog to more energy after quitting gluten.
The journey began with a gluten-free tour of Whole Foods, a once-a-month event led by the the enthusiastic and knowledgeable Melissa McConville, Marketing Team Leader in Capitola, who has tried all of Whole Food's impressively large collection of Gluten Free products.
"I think the main thing I have taken away from trying a gluten-free and dairy-free lifestyle, is that when I eliminated many of these products, I ate more whole plant based foods—veggies, fruits, nuts and seeds," says McConville, who begins the tour in the produce and then meat department.
We snake through the store, tasting as we go, through the bulk bins of quinoa, rice and other grains that can take the place of gluten, as well as a vast gluten free section in the baking aisle, frozen and processed foods, and snacks.
McConville is honest: most frozen processed foods, the pizzas and the prepared dinners, are loaded with sodium. Going gluten-free and eating nothing but the processed substitutes, in other words, would not be a wise diet change.
A meeting with Dietician Jocelyn Dubin of Nourish in Santa Cruz, agrees—while Udi's makes gluten free brands of bread, she might not recommend eating it daily as a replacement for bread.
"Making the change to gluten free grains from glutenous grains, which are generally lower in protein, many people end up feeling constipated or like their blood sugar is out of balance," says Dubin.
While additions like chia seed and millet help to fortify the bread, gluten free won't hold up to your 9-grain bread as far as protein and fiber go: potato and tapioca starches are used in most gluten free breads, are higher in carbohydrates and sugars.
Gluten sensitivity symptoms run the gamut from bloating and constipation, to feelings of lethargy and chronic diarrhea, says Dubin. No two bodies are the same, and Dubin puts her faith in science: a food allergy blood test is the only way to really know if, and to what degree, you're allergic to gluten.
"In the lab, gluten is applied in a serum form to their blood, and that number of antibodies that are being made in reaction are measured by the nanogram per milliliter," says Dubin, who uses a lab in the South Eastern United States which, unlike local labs, tells you exactly how allergic you are to certain foods, and tests a broad spectrum rather than just ten different foods.
And since many food allergies have a delayed 72-hour reaction, they can make for elusive self-diagnosis. A recent client thought she was allergic to gluten for years, but a blood test came back with an extreme allergy to egg whites—which she was eating almost daily, says Dubin.
"For everybody, there's a way of eating, and when you put it on a person without knowing that person, you are undermining the exact needs of that person which can be detrimental to people that just go gluten free," says Dubin.
Dubin, who hand writes her clients' grocery lists, recommends getting a full "body report card," conducts a 28-day cleanse twice a year in which gluten, caffeine, dairy, and sugar are eliminated from each diet.
"Clients always say I feel much better, my migraines are gone, I'm sleeping better. But the question is always, is that because you reduced dairy, or gluten, or what?" says Dubin.