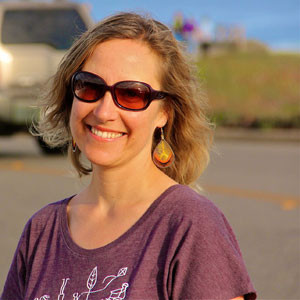 Saskia Lucas, founder of Santa Cruz Open Streets, will oversee Sunday's closure of West Cliff Drive to cars, from 9am-2pm. Last year's event drew 9,000 participants. Photo by Chip Scheuer.
Long before Saskia Lucas heard of Open Streets, she had the opportunity to ride her bike on Highway 9 when it was closed to cars due to a landslide. People were walking, cycling, rollerskating and pushing strollers on the road. She describes the experience as an "amazing ride."
"I thought, 'They should do this on purpose,'" she says. "'They should create this opportunity for people to enjoy the roadway through this amazing forest.'"
Today, Lucas has made temporarily closing streets to cars her job. As founder of Santa Cruz Open Streets, she's the force behind the annual event that closes West Cliff Drive to traffic and opens it to the community.
Last year's inaugural event drew over 9,000 participants to the stretch of coastline between Lighthouse Field and Natural Bridges. The second annual Santa Cruz Open Streets takes place Sunday, October 13 and features music, activities, food trucks and, of course, a car-free roadway.
An international movement, Open Streets traces its origins to Ciclovia, a weekly, auto-unfriendly event in Bogota, Columbia that started in 1976. There are now over 90 Open Streets events in the U.S., with more popping up all the time. Mike Samuelson, Open Streets director for the national Open Streets Project, attributes the growth to increased health-consciousness and a desire to get offline for a while.
"In an age of increasing tech use and more options that are keeping communities apart," he says, "Open Streets are a good and simple way to bring folks together without a big cost. You invite people to come, and they populate the event with their energy and what they like to do."
Amelia Conlen, Director of People Power Santa Cruz County, says that Open Streets also helps change our idea of what streets can be. In California, she points out, auto culture has long ruled the roads.
"I think what Open Streets does is help change the perception that streets are primarily for cars," she says. "It takes us back to an earlier era when streets were playgrounds and places to socialize and meet your neighbor and do commerce and all of these other uses that have fallen aside as we've turned to cars."
Locally, Open Streets is going countywide with events for Watsonville and Capitola in the works. The goal, says Lucas, who also helped get Open Streets events in Salinas and Santa Barbara, is to create a sustained program of Open Streets events where there's stuff happening in different locations around the county on an annual basis.
When Lucas introduced the idea of Open Streets event to local officials, they were, she says, cautious. But the success of last year's event served to ease concerns. There's been some pushback from West side residents who are inundated with people and face temporary road closures, but Lucas and her team are doing what they can to make the event run smoothly for everyone involved.
In an attempt to reduce parking and traffic impacts this year there are incentives for arriving car-free. Those who walk, bicycle, carpool or bus to the event will be entered into a raffle. There will also be guided "feeder rides" from different neighborhoods to the event. For those who do arrive by car, designated parking, including the lot at 2300 Delaware Ave. will be available.
According to Lucas, the biggest challenge Open Streets faces is pulling together the necessary resources. She stresses that there are plenty of opportunities to get involved and that she's incredibly grateful to all the sponsors, partners, volunteers and participants who make it happen. She says local residents are "really stepping up."
"I feel so much more connected to the community than I did before I started," she says, "and I was a fairly active person in the community. I love learning about all these individuals and community-minded businesses that I'm working with to pull this together It really does take a village."
Learn more about Santa Cruz Open Streets at scopenstreets.org