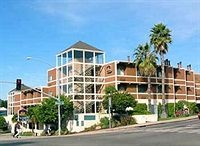 Best Western Plus All Suite Inn
500 Ocean St, Santa Cruz, CA 95060
1.800.780.5733
Need Help?
Call 1.800.780.5733
About Best Western Plus All Suite Inn
The Best Western All Suites Inn in Santa Cruz offers modern accommodations, friendly customer service and a central location for an affordable price.
This hotel is just one mile from the famous Santa Cruz attractions like the beaches and Boardwalk, including the area's best surfing spots, and destinations like DeLaveaga Golf Course, the Santa Cruz Fairgrounds (home to NASCAR stock car races), UC Santa Cruz, Roaring Camp and the Santa Cruz Harbor are all within easy reach. There are dozens of restaurants and favored shopping spots within reach.

This Santa Cruz hotel features 77 spacious suites, all of which are appointed with amenities for both business and leisure travelers. Amenities include cable television, high-speed Internet access, HBO, work areas, voicemail and sofa beds. Additionally, nine guestrooms feature fireplaces for those who want a little added luxury.

The Best Western All Suites Hotel Santa Cruz also features comforts like a state-of-the-art fitness center, free continental breakfasts each morning, an outdoor hot tub and convenient parking.

This Santa Cruz hotel also meets the needs of guests planning an event. For business guests, this hotel offers a variety of business services and meeting facilities that can accommodate groups of up to 48 people for theater-style seating. And guests planning a wedding or social event need only to contact the Sales Manager for details and reasonable rate quotes.
Our Low Price Hotel Guarantee
We are confident that our hotel prices are guaranteed to be the lowest rate you can find. If you find a lower rate for your hotel on another site, we'll refund the difference to you. Book with us and enjoy total peace of mind!
If you find a lower rate at any time up until hotel's cancellation window, we'll match the price. The lower price you find needs to be for the same dates, length of stay and room type.
---
Found a better price?
The lower price you found must be available on another website directed to consumers in the same locale, and must be for the same hotel, dates and room type.
If you used a coupon/discount voucher when you made your original booking, you can still claim under the guarantee. We will use the total discounted price you paid and compare this to the lower price you found in order to calculate your refund.
If you have made a booking which cannot be cancelled — whether it is non-refundable or if you are already within the cancellation window for the hotel — then you can't claim under the guarantee. Bookings that were part of a specific promotion (e.g. 3 nights for the price of 2) are also excluded from claiming under the guarantee.
Once we have confirmed that you are due a refund under the guarantee we will issue the refund to the card you paid with at the time of booking. We will process your refund immediately but it may take your bank up to 30 days to process it and for it to show on your statement.
Why book with us?
SantaCruz.com doesn't charge cancellation fees
We're just a phone call away: 1.800.780.5733 or 00.800.1610.1690 (Europe)