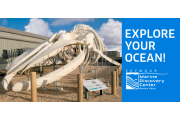 Edit
Seymour Marine Discovery Center
100 McAllister Way
, Santa Cruz
, CA
95060
|
Directions
Hours:
Tue-Sun:
10:00 am - 5:00 pm
/
About Seymour Marine Discovery Center
Seymour Marine Discovery Center at the Long Marine Laboratory is a world-class experience for all visitors to the Santa Cruz and Monterey area.
A working and teaching marine science laboratory that is part of the University of California, this exceptional center houses exhibits and exciting tours that focus on the wonders of marine life in the Monterey Bay National Marine Sanctuary. Built in 2000, the main center showcases its 18-foot high by 87-foot long Blue Whale skeleton that was found in 1979 and meticulously rebuilt as one of their many wondrous examples of the life in our oceans. Inside, the center offers a first-hand view of the marine world surrounding the Monterey Bay Sanctuary and its unique underwater life. The subjects of research range from microscopic plankton to massive blue whales, from frigid Antarctic waters to tropical, coral reefs and from the depths of the seafloor to the soaring coastal cliffs. This diversity reflects the many ways in which the oceans affect the global environment and the lives of people around the world. With its current focus on going ???Green???, director Julie Barrett Heffington is exploring ways to lighten our carbon footprint of the Monterey Bay and is actively pursuing helping people to live sustainably and in harmony with our earth and oceans.

As a teaching facility, the Seymour Marine Discovery Center portrays several ongoing research projects, including ???Eyes on the Ice: The Scientist???s Lens???, currently on exhibit presented by scientist Daniel Costa. His extensive studies of Antarctica explore the behavior of seals in their native habitat to bring you the joys and hardships of life in their frigid home. There is an ongoing calendar of events listing ongoing family activities, educational experiences for schools, and special events for the public offered year around.

Visitors to the Seymour Marine Discovery Center can also experience and discover the wonders of tide pools, meet small and large creatures of the deep, including an embryonic shark, dolphins, seals and sea lions. Children will love being able to touch sea stars and observe the mysteries of Monterey Bay marine life up close with their family or school group. Tours are booked in advance and provide exceptional opportunities to educate students about the ocean in ways that the classroom simply cannot compete with.

Special events and private occasions can be celebrated at this amazing facility of the Monterey Bay ??? many events are booked here due to the unique exposure to the ocean???s edge and the interesting surroundings of the center. The spectacular views from the reception families extend from Santa Cruz???s Natural Bridges to Cypress Point, giving patrons the entire range of the natural beauty of the Monterey Bay are and the National Marine Sanctuary. Information on arranging weddings, birthdays, seminars, luncheons, corporate events, or other special occasions can be found online here or call 831-459-1578 to schedule your event.

A special holiday event is offered every year with local arts and crafts vendors, live music, and crafts for kids.

The Seymour Marine Discovery Center is open year round to the public for tours and hands-on experiences for visitors of all ages. A list of all the current exhibits, as well as, hours, ticket info and directions are available online here or call 831-459-3800.

The Seymour Center couldn???t survive without the generous donations of patrons. Click the following links to find out more about memberships and donations.

Donate and Support the Seymour Marine Discovery Center.
http://seymourcenter.ucsc.edu/get-involved/donate/

Days and Hours:
Tuesday-Sunday, 10 AM to 5 PM
Closed Monday

Admission:
Adult $8
Student or Senior (64+) $6
Child (3-16) $6
Members visit FREE everyday

Tour Times:
For families with small children, we provide an abbreviated 30-minute guided exploration at 11:00 am daily.
Afternoon yours are 45 minutes long and depart at 1:00, 2:00, and 3:00 pm.
Tours are free with paid admission and are filled on a first come, first serve basis. Sign-ups begin one hour before tour time at the admissions desk. All participants must be present to sign up. Large groups (more than 9 people) cannot be accommodated on any single tour; please consider scheduling a tour four your group. To schedule a group tour, please call 831-459-3800.
Seymour Marine Discovery Center Videos
Upcoming Events
Sun
11/12
Repeats every and 2nd Sunday until 12/31
Sun
12/10
Repeats every and 2nd Sunday until 12/31