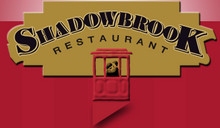 Edit
Shadowbrook Restaurant
About Shadowbrook Restaurant
Happy hour is short and sweet (Friday, 4-6pm) here at this decades-old Capitola institution, but it appears there's a happy crew here every night.
Don't miss the Wednesday night wine tastings from 5-8pm, which include perfectly paired hors d'oeuvres and great discounts on featured vintner's bottles.

The Shadowbrook restaurant of Capitola opened in October of 1947 with a theme of Romance in Dining. This is not only the most romantic place to dine in the entire Santa Cruz area, but was recently designated one of the Top 100 Most Romantic Restaurants in all of America by the 5 million voters of Open Table.

Enjoy the beautiful ambiance that The Shadowbrook has to offer.  With a very scenic outdoor bay view and a wide selection of fine dining and wine, we are sure that you will enjoy your dining experience.

Seeing as how The Shadowbrook is a romantic destination, we are proud to provide an establishment and backdrop that's great for weddings or any other special occasion. -- www.opentable.com/shadowbrook-restaurant
Articles mentioning Shadowbrook Restaurant
This is where to find not only the best dishes in Santa Cruz County, but the best restaurants for romance, great views and more.

Once again, budding young chefs are looking for vintage inspiration—and that's because it's time again for the "Dare to Pair" food and wine challenge, coming up fast on Sunday, April 29. It's a Westside delight.

Just in time for Valentine's Day, the top five date night restaurants in Santa Cruz, courtesy of the readers of Santa Cruz Weekly.