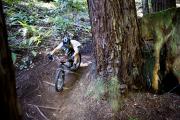 Hours:
Mon-Sun:
9:00 am - 5:00 pm
/
About The Ride Guides
The Ride Guides are the premier mountain biking guiding and coaching service in Santa Cruz, join us on our year round sublime singletrack!
All of our instructors have decades of mountain bike experience under their helmets. The International Mountain Bike Association (IMBA) has certified each of the employees as an instructor and guide.

The Ride Guides leave the ego at home and will ride anything with two wheels. It doesn't matter what mountain bike you ride, from klunker to carbon fiber we love them all and will teach you to do the same.