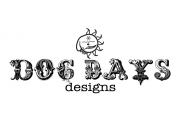 Edit
Dog Days Designs
2817 Mission St
, Santa Cruz
, CA
95060
|
Directions
About Dog Days Designs
Premium Designer Guitar Straps, Camera Straps and Ukulele Straps, handmade in Santa Cruz, California!
Guitar, Ukulele and Camera Straps Designed for Legendary Performance

At Dog Days we're all about using the best designer fabric in the world, vintage and new! We deliver thick, bold and luxurious handmade guitar, ukulele and camera straps at affordable prices. Our straps are proven tour-worthy and are built to last, featuring metal hardware, super thick leather end-tabs and a strong polypropylene interior. Our strap design is especially unique because we cover all sides with world class designer and upholstery fabric, minimizing rough edges and providing artists worldwide with the ultimate fabric strap experience available.

All of our straps are handmade in Santa Cruz, CA.
Dog Days Designs Videos