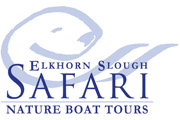 Edit
Elkhorn Slough Safari
8022 Moss Landing Rd
, Moss Landing
, CA
95039
|
Directions
Hours:
Mon-Sun:
9:00 am - 5:00 am
/
About Elkhorn Slough Safari
The Elkhorn Slough is home to the world's largest population of Southern Sea Otters, and from the comfort of our stable, 27' pontoon boat, you can see them caring for their adorable Sea Otter pups year round.
For 25 years, Elkhorn Slough Safari has been bringing visitors from all over the world to experience and fall in love with one of California's most spectacular wetlands. The Elkhorn Slough (pronounced "slew") is a regular destination for migratory birds, attracting over 300 avian species. In addition to it's thriving Sea Otter population, it's also a pupping ground for hundreds of Pacific Harbor Seals, and the rowdy antics of the California Sea Lions in the adjacent Moss Landing Harbor never fail to entertain visitors. All of our hour and a half long tours feature a trained Naturalist to tell you about the history and wildlife of this special wetland, and we offer activities for kids, and complimentary refreshments for everyone. Best of all, sea sickness is unheard of on our easy, relaxing tours of calm inland waters. Elkhorn Slough Safari is great for families, birders, photographers, and nature lovers of all ages!
Come fall in love with the Elkhorn Slough.