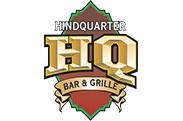 Edit
Hindquarter Bar & Grille
Hours:
Mon-Sun:
11:30 am - 9:30 pm
/
About Hindquarter Bar & Grille
"Where the Elite Meat." At Hindquarter Bar & Grille we've made our reputation serving up the finest beef around...
Our menu features perfectly grilled sirloins, huge Texas T-bones, eye-opening Jack's pepper steaks, thick and juicy filet mignon, slow-roasted prime rib, hickory-smoked Chicago baby back ribs, half-pound burgers and other meaty delights.

All our chicken dishes are made with plump, free-range birds so they're extra flavorful. Fresh seafood is a natural in our coastal city. And we have it delivered every day! Thick sandwiches? Cool and crunchy salads? We have those too... as well as a delectable choice of desserts and wine. Indulge! You deserve it all.

Our newly remodeled bar is a friendly place to meet before dinner. Or come simply to socialize over a micro-brew, to cheer for the 'Niners, or to celebrate your local softball team's victory. You'll find some of the most fun-loving people here.
Articles mentioning Hindquarter Bar & Grille
St. Patrick's Day in Santa Cruz allows us to do what we do best – relax and chill out with friends and family while throwing back a few cold ones. In Santa Cruz, a variety of restaurants, pubs, clubs and even a winery or two are going green for St. Patrick's Day. From pouring green…

Our readers pick the best music and nightlife in Santa Cruz County.

This is where to find not only the best dishes in Santa Cruz County, but the best restaurants for romance, great views and more.