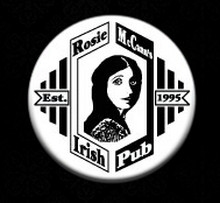 Edit
Rosie McCann's
1220 Pacific Ave
, Santa Cruz
, CA
95060
|
Directions
Hours:
Mon-Thu:
11:30 am - 12:00 am
/
Fri:
11:30 am - 2:00 am
/
Sat:
9:30 am - 2:00 am
/
Sun:
9:30 am - 12:00 am
/
About Rosie McCann's
A more upscale establishment than most Irish pubs, this restaurant/bar has a tucked-away dance floor where revelers can shake out their worries without disturbing diners in the main room. A long list of mixed drinks, including the Naughty Olivia and alway
Articles mentioning Rosie McCann's
Whether you're a local, new in town, or just passing through, Santa Cruz open mics are a great way to experience the local music scene. Everyone has to start somewhere, and open mics are a rite of passage for up-and-coming artists. Occasionally, they're a place for pros to practice and let loose. Even though attendees…

Our readers pick the best music and nightlife in Santa Cruz County.
Rosie McCann's Videos