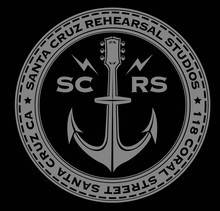 Edit
Santa Cruz Rehearsal Studios
Hours:
Mon-Sun:
10:00 am - 12:00 am
/
About Santa Cruz Rehearsal Studios
Features four rehearsal spaces that can be rented by the hour and are fully equipped with the gear necessary for a productive rehearsal.
The rates range from $13.00 to $17.00 an hour, with a three hour minimum.  A half-hour for load-in and load-out is complimentary.

Some features of our new facility:

* Each studio was built using double wall construction, soundproofing insulation and multiple layers of sheet rock applied with acoustic sealant and sound adsorbing adhesive. This creates a highly isolated practice studio with minimal sound interference between rooms. 

* Tapered ceilings and wall mounted acoustic tiles to prevent standing waves.

* Specially designed and built soundproof doors

* Ground floor load in of all rooms

* Easily accessible location, load-in and parking. Centrally located in Harvey West just off Highway 1. 

* Convenient Hours:  Monday through Sunday from 10:00 AM until midnight

* Studio 1  -- 23' x 13' - includes full backline (drum rig, bass rig, guitar rig and PA)

* Studio 2 -- 18.5' x 13'- PA System included in rental price

* Studio 3 -- 18.5' x 13'-·PA System included in rental price

* Studio 4 -- 15' x 10'- PA System included in rental price

* Off-peak hour discounts available for music instruction or non-profit usage

* Available for private events

* Networking opportunities and increased productivity

Whether a band is trying to perfect their live show, write new material or practice for an upcoming recording session, Santa Cruz Rehearsal Studios will provide the space and equipment every musician needs to create with friendly service and an affordable price.
Santa Cruz Rehearsal Studios Videos