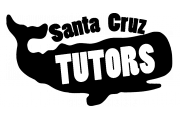 Hours:
Mon-Sun:
9:00 am - 6:00 pm
/
About Santa Cruz Tutors
Santa Cruz Tutors provides top quality tutoring services in all areas of Academics, Test Preparation, Foreign Language, and Music. We recognize learning differences and offer excellent support through finding the right tutoring match for each student
Our Vision as a company is to support the Santa Cruz County education system as a whole through a strong network of skilled local instructors. We understand that knowledge is power, true learning is satisfying, and that the secret to a successful education is simple: attention and interest.

When capable learners don't get the attention they need in the classroom, they shut down, they lose focus, and they disengage with the lesson. Many children who struggle in our current system are often very capable learners who simply need more personalized attention to succeed. We recognize that the right individual support can boost grades, confidence, and a student's underlying willingness to feel safe engaging a subject. This is why we work to pair up the right tutor for each individual and if not satisfied with initial match, will provide a free tutoring hour with another hand selected tutor until the right match is found. If no suitable tutor can be found, you will be refunded for your session.