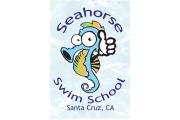 Edit
Seahorse Swim School
Hours:
Mon-Fri:
10:00 am - 7:00 pm
/
Sat:
10:00 am - 2:00 pm
/
About Seahorse Swim School
Private swim lessons offered out of a private pool in Aptos. Serene setting, warm pool with no distractions.
Swimming lessons for all ages, levels and abilities. Swim lessons, parent tot classes and a non-competitive swimteam are offered out of 3 locations in Santa Cruz County. Our Full Summer program is offered at Santa Cruz High School w. Swim lessons, swimteam, water polo, water aerobics and a fantastic pool Jr. Guard program.??


Contact Tiffany Harmon for more information.
Seahorse Swim School Videos