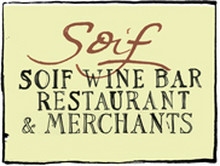 Edit
Soif Wine Bar & Restaurant
105 Walnut Avenue
, Santa Cruz
, CA
95060
|
Directions
Hours:
Mon, Sun:
5:00 pm - 9:00 pm
/
Mon, Sun, Tue-Thu:
12:00 pm - 9:00 pm
/
Fri, Sat:
12:00 pm - 10:00 pm
/
About Soif Wine Bar & Restaurant
Soif is a Santa Cruz Retaurantm Wine Bar, and Wine Retail Shop providing the opportunity to explore wines in a sophisticated and friendly environment. Our goal has been to provide a comfortable place to drink great wine and eat food that is as good as the
Articles mentioning Soif Wine Bar & Restaurant
While Santa Cruz is quite a health-conscious community, the city has their fair share of tempting sweet treats. From ice cream and cookies to crepes and even chocolate-covered bacon, the options are plentiful for when that sweet tooth strikes. Tickle your taste buds with our picks for top sweet treats and desserts in Santa Cruz.…

This is where to find not only the best dishes in Santa Cruz County, but the best restaurants for romance, great views and more.