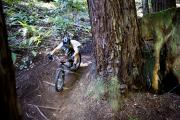 Hours:
Mon-Sun:
9:00 am - 5:00 pm
/
About The Ride Guides
Our passionate pros are committed to helping you discover your dream trail among Santa Cruz's superlative singletrack.
The Ride Guides provide personalized coaching, guiding, and group ride services in Santa Cruz County. We are your mountain biking concierges in Santa Cruz, we can organize your ride, bicycle of choice, as well as recommend the accommodations, drinking and dining options to suit your taste and budget.
The Ride Guides Videos