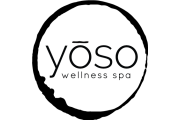 Hours:
Mon-Tue, Thu:
9:00 am - 9:00 pm
/
Wed, Sat:
9:00 am - 6:00 pm
/
Fri:
9:00 am - 7:30 pm
/
Sun:
10:00 am - 3:00 pm
/
About Yoso Wellness Spa
At Y??so Wellness Spa we aim to treat our clients with a holistic, clinical approach to healthy skin and a healthy body
Offering skincare, massage, nails, lashes, waxing and makeup. Open Tue-Sat by appt.
At Y??so Wellness Spa, we use organic products that harness the healing powers of Mother Nature while targeting and treating specific skin conditions. We have made a commitment to choosing products and practices that support a sustainable and ecologically responsible way of offering therapeutic treatments. We tailor each treatment to your specific goals and needs to make sure each visit is as special and unique as you are. This approach will achieve rapid, positive changes in your skin while improving its overall health.

We proudly offer Eminence Organics, Osmosis Skincare and Jane Iredale Makeup. Along with Doterra Essential Oils and NuFace Microcurrent Device for home use.

We are proud members of the Monterey Bay Green Business Program as well as the Eminence Green Spa Program, Think Local First ??? Santa Cruz County and the Santa Cruz Chamber of Commerce.