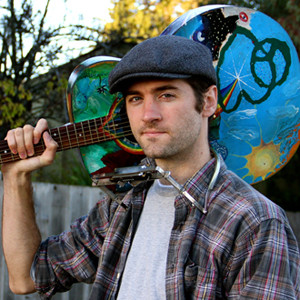 John Craigie's guitar began to evolve when he was a student at UC-Santa Cruz. Photo by Chip Scheuer.
When John Craigie wakes up in the middle of the night, he usually doesn't know where he is.
Depending on the lighting—or how full the moon is that evening—it takes the couch-surfing songwriter anywhere from a few seconds to a full minute to figure out whose couch he's on. And the UCSC grad begins by trying to figure out where he performed earlier that night, or where he was the night before.
"I just have to do a little bit of math and a little bit of detective work," says Craigie, who tours nonstop—he hasn't paid rent anywhere in seven years. "And then once you remember, you say, 'OK, where's the bathroom and the fountain?' Make sure you don't walk into someone's bedroom."
Craigie, whose acoustic performances blend sharp observations with gentle wit, didn't start listening to Americana music until he moved to Santa Cruz 12 years ago for school—rather like how folk hero Gillian Welch didn't fall for folk music until she enrolled at UCSC in 1990.
When Craigie was studying math at UCSC, he was something of a music student, too. He got a Fishman pickup installed in his Takamine guitar. When he left the guitar in his living room, guests and friends would sometimes paint symbols on it—a butterfly here, a woman's face there—until it looked like an acid-influenced Donovan daydream from the 1960s. He and fellow songwriter Brett Dennen sometimes performed at the Ugly Mug, or on Union Street at the Java House, now Pono Island Grill.
The Traveler
KPIG DJ "Sleepy" John Sandidge says the nomadic life on the road Craigie has since chosen isn't easy.
"It's an incredible undertaking," says Sandidge. Craigie's musical style reminds him of Greg Brown, Todd Snider and Robert Earl Keen. "Sometimes it's long drives, and you're all by yourself. And you're booking shows in the future, and you're trying to create more music, and you're trying to keep yourself alive, and then the van breaks. It's a very difficult life, and he's kept such a great attitude, and it's really the only way to do it. Like anything, you just have to beat on doors until someone opens."
Craigie's commitment to not just playing but living on the road has earned him comparisons to Woody Guthrie, Pete Seeger and Ramblin' Jack Elliot, all artists he admires.
There's a rich tradition of troubadours in America, stretching back to the Great Depression of the 1930s, when guitar player Woody Guthrie left his family in Texas searching for work in California. Guthrie began traveling the country with unions and writing songs, slowly gaining popularity with songs like "This Land is Your Land."
Guthrie teamed up with Pete Seeger in 1940, and the newly formed Almanac Singers traveled the nation, performing in people's living rooms. What would now be called "house shows" were in those days known as "hootenannies." And instead of having a psychedelic butterfly on his guitar,
Guthrie had a black sticker that said "This Machine Kills Fascists."
But a troubadour's life is much easier now, Craigie says, with smart phones, the ability to make his own merchandise and the widespread growth of an underground music infrastructure.
"We really can't touch what those guys were doing," he says.
Still, he does rely on the connections he makes on the road. Like with Bonny Fleming, who for almost a decade has been letting Craigie stay at her home in Rapid City, South Dakota, whenever he plays in the area.
"He pops in, but it's like he's never really left. He's everyone's friend and he's so nice," she says. "He's only here for two days a year. But when he's here, everyone comes together to see him again. I think it's a real testament that people will come out to see him every time."
After Math
When Craigie rolls through Santa Cruz these days, he's a little more of an outsider than he used to be. Since he gave up his gig teaching math at Watsonville High School in 2004, he's lived on the road and made music—seven studio albums, and he's working on an eighth. Last summer, he did his first European tour.
Santa Cruz has seen the many phases of John Craigie. "It's nice to play somewhere where people have seen you in all these spectrums," he says. "I like playing towns where people know I used to suck. I like to have something to prove."
He does keep coming back, often about half a dozen times a year. Last month, he opened for Todd Snider at the Catalyst, and in September he played Don Quixote's in Felton. This Saturday he plays the Rio as part of Richard Stockton's Planet Cruz Comedy extravaganza, which also features singer Tammi Brown and county supervisor funnyman Zach Friend.
Craigie, much of whose material addresses serious subjects like death and relationships, also has a collection of happier, more fun songs like "Let's Talk This Over When We're Sober and Not at Burning Man."
His most requested song, "Chuck Norris' Tears Cure Cancer (Too Bad He Never Cries)" was originally written to appease an adoring fan. But for better or for worse, the four-chord jam soon became a big hit on YouTube and left Craigie no choice but to play it almost every show.
"You've got to love all your children," Craigie says, "even the weird, retarded ones who don't walk right."
Real Roots
Craigie usually uses humor as a way to draw people in. A huge fan of standup comedians Louis C.K. and Patton Oswald, he sometimes introduces his songs by telling charming stories with a fumbling delivery reminiscent of the late Mitch Hedberg, and strikes a balance between belly laughs and dramatic storytelling.
"I see them both as key elements of entertainment, and key elements of our soul," Craigie says.
One of Craigie's darker and more popular songs is called "28," off his 2009 album Montana Tale. The 32-year-old wrote it when he was 27 about Janis Joplin, Jim Morrison and Kurt Cobain, who are in what Craigie calls "The 27 Club"—they each died less than a year shy of their 28th birthday.
"With those three especially, they didn't want to die. Of course, Kurt did shoot himself. But I felt like if they could have just gotten through this one section of their life, they might have been OK," he says. "It was a call to my generation: it's going to get better if you can just make it to this next level."
When he performs, Craigie keeps things simple, with a set of harmonicas and his sky-blue, ornate Takamine, the only guitar he's ever owned. His latest album October Is the Kindest Month features a full band, including Jack Johnson's piano player, Zach Gill, and Steve Adams of Animal Liberation Orchestra.
The album focuses largely on the end of a relationship with a girl, partly because Craigie was spending so much time away and on the road. On the opening track, he sings, "A man cannot say goodbye anymore"—something he obviously doesn't fully believe.
But it's hard, Craigie says, for some people to move on when the time comes. "I have a lot of friends like that, whether it's a job or a relationship," he says. "Who want to leave, but they say, 'well, it's too late now. I can't. I'm in too deep.'"
Goal Disoriented
Much of Craigie's time is spent promoting himself and making connections—figuring out where he's going to perform or stay each night.
In Santa Cruz, he forged a bond with Sandidge, who hosts the weekly radio show "Please Stand By" on KPIG with live performers.
"I thought 'this is a guy I need to get to know,' so I started doing 'Please Stand By,'" Craigie says. "I would do it, and it was very nice, but it was just like, 'hey! Nice to see you again' or he'd forget who I was. It took probably four years doing that until finally one time I did it, he said, 'that's good.' And then as I was leaving, he said, 'we should do a show together,' so then I pounced on it."
But to hear Sandidge tell it, it took a lot less than four years for his ears to perk up. He says Craigie blew him away "immediately. He just impressed the whole crew." Sandidge says it simply took a while to get the machine moving and convince the whole station and its managers to support the UCSC grad.
"We can hear it and say 'this is great.' But then we have to convince the music director and the station director to add this guy, which we finally did."
When that happened, Craigie went from playing venues like the Crepe Place to larger ones like Don Quixote's and opening for acts like Todd Snider and Paul Thorn. He will return to the Kuumbwa to headline a show on May 21.
Sandidge says Craigie has the makings of a very popular folk singer.
"He's scratching the surface of his abilities," says Sandidge, who helped discover local act Devil Makes Three, which has risen to Americana prominence.
"He's not a fabulous guitar player, and he's not the best singer that's ever hit the stage—that's for sure," Sandidge adds. "But he's a good entertainer. And that's really the difference between the people who make it, and the ones who don't."
Craigie doesn't know where he will end up in five years, or even where he wants to. For someone so driven, he sure does keep mum about his aspirations. He doesn't know when he'll slow down on touring and try to settle down, or how many albums he wants to make. Asking John Craigie how famous he's going to get would be like asking where he's going to be one year from tonight.
"Not knowing your goal is better than having an ultimate goal," Craigie says, "because you know when you get there you won't be satisfied."