Blame it on the simple living movement, or maybe just Mad Men, but the soothing minimalism of midcentury modern decor is back in style. Suddenly every fashionable interior designer, collector and amateur DIYer is talking about the functional elegance of design from the middle of the 20th century (the late 1940s to early 1960s). So what exactly are they talking about?
The fundamentals of midcentury modern took off with the Bauhaus movement of 1920s Germany, noted for its lack of ornamentation in design, and the idea that functionality and design should be integral. It was a populist response to the elaborate and expensive craftsmanship of the neoclassical Beaux-Arts style that had reigned in architecture, art, fashion and graphic design. Clean lines and modern materials made beauty and quality affordable for all.
By the 1950s, the form was exported and softened, particularly in Scandinavia and Brazil. Eventually, it made its way to the U.S., where the outdoors was brought into homes and offices with glass and open floor plans that included natural elements. Reinterpretations went global, and the influence flourished in postwar suburbia. Midcentury modern has made a couple of comebacks, including in the late '90s, but this is the biggest yet.
Locally, the sources are few, but the prices are lower than for comparable items that can be found in bigger cities—if you could even get ahead of the stampede.
RETROSPECT DESIGN
806 Pacific Ave., Santa Cruz
The main attraction for the pedestrian who happens to be passing Nancy LaPlaca and Todd Kransky's new store on lower Pacific is the colorful art covering almost every square inch of the walls. Once inside, the handpicked vintage midcentury modern furniture, lamps, rugs and curios deserve the slow appraisal demanded by a fine art gallery. "A lot is teak, a lot is Danish," the pair explain enthusiastically in alternating lines of conversation. "We're priced the same as new, but the quality is much higher," says Kransky. "The materials and designs are an expression of style, and it's not out of a box," says LaPlaca. Kransky adds that midcentury modern has captured a moment. "We keep trying to get away from it, but we keep going back to it. It's where society wants to be," he says. LaPlaca gestures at the softness of the woods around her. "It's calming. It's Zen."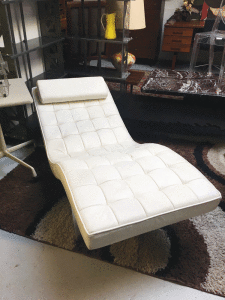 REDO CONSIGN & REDESIGN
1523 Commercial Way, Santa Cruz
Don't even think of bringing owner Robin Cross anything less than like-new condition and well-crafted pieces for resale at Redo Consign & Redesign. "If you go to a big city or look online, prices will be twice as much or more," says Lynn Grebil, a stager at Redo. "And we bring in new items daily, not on certain days of the week." There isn't a focus on any particular style of furnishings, but there were more than a dozen midcentury modern pieces on a recent visit, and it's worth a trip to see this large, well-designed space with its appealing scent of wood and a high standard maintained across the board for vintage-to-new furnishings, art, mirrors, lamps, rugs and more. Redo's inventory is sourced from interior designers, private owners, stagers and manufacturer sample sales.
sourgrassbuilt
Even birds should have access to a home with good design, quality materials and a modern aesthetic. Santa Cruz birds do, thanks to Douglas Barnhard. Growing up in Los Gatos, he liked the midcentury modern homes of some of his friends, and when he later attended architecture school, he was inspired by the work of Joseph Eichler and Frank Lloyd Wright. A few years ago, using scrap materials piling up at his local cabinet workshop, Barnhard began making modern birdhouses. He doesn't copy specific designs, but uses his sense of the MCM style. "I've been asked by architects to emulate a project they've just finished," he says. "I'm willing to custom build."
NEW "VINTAGE-LOOK" MODERN DECOR
If you're hip to MCM, but can't find exactly what you want pre-owned, a few local stores carry furniture and decor that embody the ethos.
AGENCY | The art of fine craft is on display at this purveyor of modern furniture and home goods. 1519 Pacific Ave., Santa Cruz
MODERN LIFE | Specializing in furniture and decor that is contemporary yet incorporates warm materials for a distinctly Santa Cruz style.

925 41st Ave., Santa Cruz

SC 41 | A tremendous selection of quality furnishings, and an array of sumptuous color and fabric options for most.

2647 41st Ave., Soquel