It's sort of ironic, I know, that my smartphone serves as a portal into nature, but my Instagram feed is full of green foliage and cactus flowers. On Instagram, this is not hard to do. The social media platform is teeming with design enthusiasts and plant lovers, who, more and more, seem to be becoming one and the same. Accounts like @thejungalow, which tours the inside of hundreds of living rooms coming to life in the most literal sense; @cactusmagazine, which provides daily cacti eye candy; or @plantsonpink, which offers a thousand iterations of exactly what it advertises, all provide visual evidence of a design trend that I really don't mind going mainstream: bringing the outdoors in.
According to a January article in Telegraph, "Smaller houses, more people renting and an ironic passion for Seventies kitsch has led to a trend for indoor plants." With a nod to Instagram as a magnet for "hipsters" wanting to show off "their cheese and rubber plants displayed in macrame hangers," Telegraph notes that even IKEA is embracing micro living and urban gardening with its Krydda range of indoor cultivators.
In Santa Cruz, the love of the indoor jungle is alive and lush.
"We never expected [the plant side of the business] to take off as much as it did, plants and pots are about 50 percent of our sales," says Leilani Zehnder, who co-founded the home decor store Botanic and Luxe one year ago this April, with her longtime friend Ariel Carlson, a landscape architect. "We are passionate about plants. We grew up on Kauai, so we were surrounded by plants growing up."
The Front Street shop practically breathes, thanks to its abundance of houseplants, from the exotic, top-selling tillandsia, or air plants, to the sunlight-loving fiddle-leaf figs, to the mottled leaves of the prayer plant, to the sansevieria trifasciata, also known as a snake plant—or, curiously, mother-in-law's tongue. Snake plants do well in low light and are one of the best air-purifiers of all.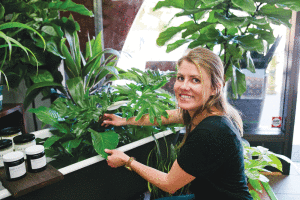 "They pull toxins from the air, like the chemicals in carpets and the flame retardants in mattresses," says Zehnder. Plus, "They'll just thrive off neglect. Which is important, because I feel like people sometimes get so excited to have houseplants that they tend to overwater them or tend to them too much."
Zehnder and Carlson also stress the importance of matching the right plant to the type of light in your house—a common rookie mistake. From experience, I'll add that proper drainage is just as important. It took me a while to realize that the beautiful thriving plants I'd brought home from the nursery and re-planted in pretty ceramic pots were dying not because of low light, but because of waterlogged soil.
PLANTS IN SPACE
In search of a way to clean space station air, NASA conducted a Clean Air Study in 1989, testing various common houseplants for their carbon dioxide absorption, oxygen output, and ability to eliminate significant amounts of benzene, formaldehyde, xylene and trichloroethylene. Sure enough, the snake plant was a top performer, along with the peace lily and dozens of others, which is why NASA recommends at least one plant for every 100-square feet in buildings.
"It's also a benefit to the psyche," says Carlson. "People literally come in here and touch the plants. It's like it's what they're missing all day."
Several scientific studies link indoor plants to cognitive benefits—like increased productivity, concentration and calm—and Diane Schwedner of Bespoke Interiors says that the benefits of a home graced with plants go beyond the physical and psychological, taking on spiritual significance.
"As leaves eat the sun—photosynthesis—we feel beauty, awe, wonder. Something within us stirs, quickens, unfurls. These living beings are more than simply objects," says Schwedner. "Traditional indigenous knowledge holds 'plants as beings with their own songs and sensibilities,' says plant ecologist Dr. Robin Wall Kimmerer. She encourages us to embrace the possibility of plant intelligence."
NATURAL REFLECTIONS
The "jungalow" trend extends beyond physical houseplants to their reflections in art, and it's common to see botanical prints and watercolors, like the ones by Jenny Kiker of Living Pattern (@livingpattern) at Botanic and Luxe, on the walls of a living room or kitchen that already looks like a greenhouse.
Balancing out the various foliage at this store are the macrame wall hangings and plant holders made by local company Bellwether Hardware, which Erica Butler started with her husband. She learned how to make the 100-percent cotton macrames on the internet.
"And then it got kind of out of control, and I had a whole closet full of them," says Butler, who admits that there was once a time when she could not keep a single houseplant alive.
The botanical design theme continues up the street at Hive & Hum, another mecca for home decor that celebrated its one-year anniversary this month. First, there are the colorful and mind-blowingly beautiful botanical watercolors of Mckella Suter, (on instagram @mckellojo), the daughter of Jodi Maricich, who started Hive & Hum with her husband, Gary Maricich.
"I've never met a human being more connected to nature than our daughter," says Maricich. "She's the oldest of our three children, and I swear, as a small child, just getting her to come in the house every night, was the hardest thing."
OUTSIDE IN
Maricich, an interior designer for the past 20 years, says that the retail space has been a natural extension of her and her husband's work in interior design, and it doubles as a workshop space—including a strong focus on all things beekeeping. "We are backyard beekeepers, and we wanted to inspire the world and at least raise awareness around honey bees and pollinator health because without them, there's no us," says Maricich.
Maricich says she's noticed a resurgence in bringing the outside in, but rather than sell living plants, Hive & Hum carries a wide array of faux greenery, from rubber succulents to silk-dyed flowers, like the vibrant bougainvillea. One reason they sell the faux rather than real, says Maricich, is because they've become good friends with Botanic and Luxe.
"One thing I really love about all the shops downtown is we're all friends, and we collaborate, we had no desire to compete. We send people all the time," says Maricich.
The other is that they see themselves as a different kind of design solution. "I have a lot of clients who are either traveling a lot or have a second home here, and their priority is not to maintain a bunch of houseplants, though they still want the feeling of inside out," says Maricich.
They've sourced high-end, quality, and realistic greenery from a California company that is so realistic looking that even florists have come into the shop and thought they were real.
"And they have increased our happiness greatly," says Macicich. "Because we're there 10 hours a day, six to seven days a week. And we all love being in there. It's like being in a little jungle."
Botanic and Luxe is at 701-A Front St., Santa Cruz, 515-7710. Hive & Hum is at 415-B River St., Santa Cruz, 421-9028. More information on Bespoke Interiors at bespokeinteriors.us.