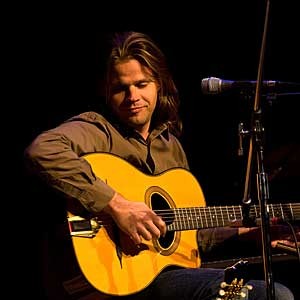 Blind since birth, Dayan Kai started playing music at a very early age.
It's a sunny but brisk day and I'm sitting at Blue Ball Park with local musician Dayan Kai. He's there with his family, and every now and then one of his kids runs over to pounce on him or give him a toy to hold. We're talking about music and the fact that some people are just born musically gifted. "In the Indian tradition," he says, his long blond hair blowing about in the winter breeze, "they say that you cannot learn to play tabla in one lifetime."
A natural musician, Kai is one of those people who can pick up just about anything and figure out how to play it. An accomplished singer, songwriter and composer, he plays all four families of instruments ("keys, strings, winds and skins" is his description of choice), e has perfect pitch, teaches music, produces other musicians and builds and repairs instruments.
Oh yeah—and he's blind.
Born without sight, Kai, who has lived in Santa Cruz off and on for the last 20 years, knew from a young age that music would be a big part of his life. "There are stories in my family about my parents hearing songs and going, 'That record's over, what's going on?' and coming in and seeing little me, up on the piano bench, banging out what I heard," he says. "Initially I think it was kind of freaky for them, but they were smart. They said, 'Let's get this kid lessons right away.'"
His parents did get him lessons. They also built him a music room furnished with two pianos, a drum set and guitars. "They were really supportive," he says, adding with a smile, "I think it got a little harder when I started playing punk rock."
These days, Kai's musical range spans just about every genre. He plays jazz, classical, folk, world, blues, bluegrass, rock and whatever else comes his way. But he doesn't like pigeonholing his music and says genres serve the industry, not the artists.
"I reject the whole notion of genres," he says. "They don't really serve the audiences or the musicians. I've been put into genres and it has hurt my career at times," he continues. "People labeled me 'folk' and then the jazz guys didn't like me; I played bluegrass for a while and the jazz guys really didn't like that; then I played jazz and the bluegrass guys are like, 'Oh, you're too sophisticated.' I love old-time fiddle and I love Debussy."
Kai has had friends ask him if being blind has helped his musical development. "I would say the benefit in my case is that there isn't that temptation or that distraction to look at my neck or my keys," he says. "I never had the option of looking at my instrument, so I'm sure I learned a more intimate relationship more quickly because of that." But he points out that being a blind musician has its drawbacks.
"There are time that I wish I could look," he says. "I've got friends who, if they want to learn how to play Django Reinhardt music, they go get Django Reinhardt videos. I would love to have that available to me. Another huge disadvantage," he continues, "is that I love jazz and I love big band music, and I can't play in the big bands in any other capacity than a featured soloist because I can't sightread. I certainly have the skill and the theoretical understanding, but I can't physically sightread."
For his upcoming concert at the Kuumbwa Jazz Center, Kai has brought together some of his favorite musicians including Steve Uccello, Jimmy Norris, Art Alm, Sharon Allen, Mike McKinley and his wife, dancer Angell Estrada. His goal is to share "some good music, good thoughts and love." It's a sentiment that ripples throughout his music and his life.
"I've always been called to play music and to share it with people," he says. "I really don't have any choice in the matter. I don't take any credit for it. I did work hard, but the natural ability—I just feel like it was a gift."
Dayan Kai and Band
Saturday, March 17, 7:30pm
Kuumbwa
$18 gen/$30 gold