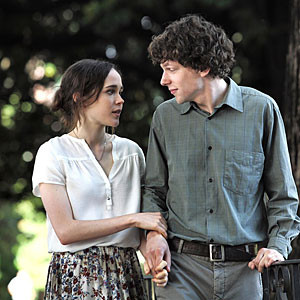 Woody Allen's 'To Rome With Love' provides a welcome break from the summer's superhero flicks.
Is Abraham Lincoln, Vampire Hunter, opening June 22, the end of something? It's a ticklish premise. Would Old Abe (Benjamin Walker)—who pulled the fangs of slavery from the necks of the downtrodden—have done any less when dealing with real vamps?
The film is written by Seth Grahame-Smith, who renovated Jane Austen with flesh-eating zombies—and whose (bad) script made Dark Shadows over with bizarre McDonald's product placement.
Maybe this summer brings with it a superhero-movie glut, as bloggers have been raising the alarm about. I'd worry more about the video game Max Payne 3 getting reviewed on the front page of The New York Times' art section, a piece effusive with compliments on the excellent rendering of the bullets hitting the faces.
If there are too many of these capes and masks, it might be worth raising hopes for Christopher Nolan's well-proven sense of zeitgeist and the politics underneath the superhero tale. The Dark Knight Rises opens July 20. Nolan's imaginary rendering of terrorist events is diabolical, seen in the previews as a football game transformed into the Civil War's Battle of the Crater. Poring over the trailer as if it were the Zapruder film, I worry. The film seems unwieldy: a three-way pull among Tom Hardy as the bone-breaking Bane, in his steel lamprey mask and delivering his lines with malty John Huston vocals; Selina Kyle, a.k.a. Catwoman (Anne Hathaway; gorgeous yes, intimidating, well …); and the aging, called-out-of-retirement Batman (Christian Bale), still a wanted criminal after the end of The Dark Knight.
I have a hard time believing that The Amazing Spiderman (July 3) will be quite as provocative as The Dark Knight Rises. The film reprises the origin story, which was done nicely only 10 years ago. The idea this time is to make Peter Parker (Andrew Garfield) a brilliant technician instead of the lucky recipient of just the right kind of spider bite. Director Marc Webb, who made (500) Days of Summer, previously showed some skill in handling doomed romance, so perhaps he can make something meaningful out of the troubles between the superpowered geek and his sort-of girlfriend, Gwen Stacy, played here by the always-endearing Emma Stone.
Prometheus (June 8) tells the titanic history of the famous xenomorphs, last seen cringing in despair in 2007's Alien vs. Predator: Requiem. In deep space in 2085, we learn not just how humanity began but also how we became a favorite vessel for the metal-toothed cephalopods. Voyagers include Michael Fassbender as an anatomically correct android, Charlize Thereon and the ever-violent Noomi Rapace.
Total Recall (Aug. 3) is the remake of one of Arnold Schwarzenegger's most likable films about the nature of reality. This one doesn't go to Mars, unfortunately, though the claim so far is that Total Recall is closer to the source, Philip K. Dick's "We Can Remember It for You Wholesale" than the 1990 version. Director Len Wiseman is a local; he was raised in Fremont and spent some time at De Anza College studying film, before embarking on the most reliably inane franchise not actually made by Luc Besson, the Underworld series.
Jon M. Chu, formerly of Palo Alto, directed Step Up 3D, but somehow avoided Step Up Revolution, (which opens July 27). Instead, Chu is directing Channing Tatum in G.I. Joe: Retaliation (June 29). We should expect some lame-brained fun, since the first G.I. Joe was an all-expenses paid trip to Absurdistan. This time around, RZA is cast as "Blind Master"; in addition to Channing's famous horsemeat, we have the monumental physiques of Duane Johnson and Ray Stevenson together begging the question of the audience, "Do you like gladiator movies"? In charge of the evil organization Cobra: former mummy Arnold Vosloo as the evil "Zartan."
All of the above probably represent too much ruckus for slightly more mature audiences. I hope they're ready for a new Woody Allen movie, whether one is needed or not. To Rome With Love (June 29) is Allen's first repayment of his debt to Italian comedy since the "Why Do Some Women Have Trouble Reaching Orgasm?" section in Everything You Wanted to Know About Sex 40 years ago.  Allen, Penelope Cruz and Alec Baldwin combine in various episodes shot in expensive Eternal City–scapes.
Moonrise Kingdom (June 15) is, in a word, adorable. Where you stand on the matter of adorability will determine how much you can stand this Wes Anderson opus, his first since his best film, The Fantastic Mr. Fox. Being Anderson's, the Moonrise Kingdom boasts a heavyweight soundtrack: Alexandre Desplat, plus lots of tender and obscure Benjamin Britten and heaps of famous Hank Williams.
In September 1965, two runaway gifted 12-year-olds, Sam and Suzy (Jared Gilman and Kara Hayward) head off to the wilderness of the fictional New England island of New Penzance. A sad policeman (Bruce Willis) and an intrepid "Khaki Scouts" leader (Edward Norton) go looking for them. Keeled as it is by some redoubtable middle-aged regret (Bill Murray and Frances McDormand play the strayed girl's parents), this toy showboat is something like the Max Fischer Players version of Gun Crazy. Saying that, the violence count is sub-Hunger Games.
A brace of literary adaptations are also on the summer slate. Trishna (July 20) stars Freida Pinto in an Jaipur-set take on Thomas Hardy's novel of the ruining of a country girl, Tess of the D'Urbervilles, with Riz Ahmed as the Angel Clare character. Director Michael Winterbottom has been exploring the rollicking, light-hearted world of Hardy since his 1996 Jude.
And the Boardwalk steps into whatever void may exist with its usual spate of nostalgic screenings on Wednesday nights, sweetened by the sweet price of free. Starting with Lost Boyson July 11, it's Grease, The Princess Bride, The Sandlot, Ferris Bueller's Day Off, and Goonieswraps it up on Aug. 15.