UC Santa Cruz alumni will once again "come home" for reveling and reuniting at the university's annual Alumni Weekend, which this year is April 27–29. (Photo by Steve Kurtz)
[Sponsored]
Slugs, come home!
The Return of the Prodigal Slugs, otherwise known as Alumni Weekend 2018, will be a moveable slug-fest for alumni and their loved ones. Attractions include a tour through the labs of Science Hill, a roof-raising lecture about ethical universities, a peaceful stroll through an organic farm, an energetic 5k run through campus, and so much more. You'll findelow is a small sampling of events below.
A lot of reuniting will take place in the course of this three-day weekend, which runs from Friday, April 27 through Sunday, April 29.
Returning Slugs will also have many chances to mark important milestones. For instance, Merrill College and Educational Opportunity Programs (EOP) will both hold 50th anniversary celebrations. The weekend will also include the 20th anniversary celebration for the Everett Program and 10th anniversary festivities at the World Learning Cafe at Kresge College.
Though the schedule seems action-packed, there will be lots of room to let loose and relax.  
There's also a new app this year, which registered attendees will be invited to download and use. The app will have a full listing of events as well as your registered events, locations, descriptions, maps, a list of who's coming, and more. In addition, the app makes it easy to exchange contact info with people you run into.
Friday, my day  
One of the Friday kick-off events is the all-day celebration at UC Santa Cruz's homegrown college radio station from 10 a.m. to 6 p.m. Student radio started at UC Santa Cruz 50 years ago, so it's no wonder that the folks at KZSC FM are eager to celebrate.
Today is a good day to catch up with UC Santa Cruz's Graduate Division, which will host several events, including a Graduate Student Alumni Career Paths Panel at Stevenson Fireside Lounge at 10 a.m. and a Graduate Research Symposium at 1:30 p.m. at McHenry Library Information Commons.
This year also offers some tantalizing off-campus options. The good times will roll from 5–7 p.m. at the Alumni Weekend Kickoff Celebration at the Aloha Terrace at the Santa Cruz Beach Boardwalk, a great chance to mingle before the main festivities begin. Admission is $15.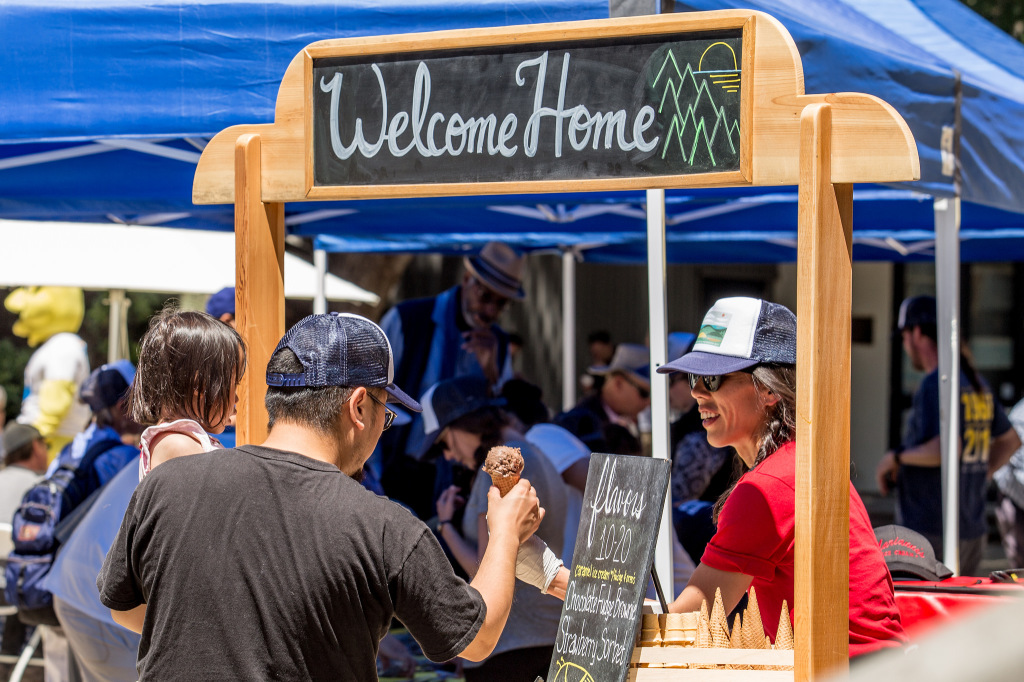 Good food and good times are always on the agenda for returning alumni and the community at UC Santa Cruz's annual Alumni Weekend, which this year is April 27–29. (Photo by Steve Kurtz) 
Saturday, what a day
After a night of revels and relaxation, nothing peps up the spirit like a wild dash across campus. Lace up at 8 a.m. for the Campus 5K Fun Run, which starts at the OPERS East Field House and rambles through all 10 colleges and some of the most iconic and nostalgic spots on campus.
Saturday is also a chance to "get wild" at the UC Santa Cruz Bioblitz and Younger Lagoon Bioblitz, allowing alumni to take part in an inventory of wildlife, from 9 a.m. to noon. Or stick around campus and enjoy a faculty lecture and private tour of the Institute for the Biology of Stem Cells starting at 9 a.m.; or tour UC Santa Cruz's influential and beautiful 30-acre organic farm from 10–11:30 a.m.
An eye-opening Teach-In, entitled "How Slugs Teach And Learn Now: What is Active Learning And Why Does It Matter?" runs from 12:30–2 p.m. at Humanities Room 259, starring four of UC Santa Cruz's most innovative educators.
Speaking of influential professors, the Faculty Keynote/Baskin Ethics Lecture, delivered by beloved feminist studies professor Bettina Aptheker at an equally beloved and recently reopened campus landmark, the Quarry Amphitheater, is sure to draw a large crowd. Aptheker will be in conversation with Marlene Tromp, campus provost and executive vice chancellor, about the ethical role of public universities. The talk goes from 11 a.m.–12:15 p.m.
All this activity is bound to make you hungry. You will not want to miss the ever-popular Artisanal Carry-Out Lunch at Quarry Plaza from 12:30–2 p.m.
Saturday is also the time to catch a fascinating lecture by an award-winning scholar, Professor Mark Massoud, politics and legal studies, who will speak about the lived experience of Islamic law for Muslims in Somalia, Sudan, and California, followed by an on-stage discussion between Professor Massoud and best-selling writer Laurie R. King. Massoud will deliver this year's Noel Q. King Memorial Lecture, which is part of Merrill College's 50th anniversary celebration.
Wind it all down with happy hour among the redwoods with the Alumni Beer and Wine Reception from 5–7 p.m. in Quarry Amphitheater.
Sunday, fun day
Round out the weekend with your choice of brunches taking place at various colleges, and make sure to hit the annual Dizikes Concert. Everyone is welcome to dance the afternoon away in this special event honoring John Dizikes, professor emeritus of American studies.
At this point, well-satisfied Slugs can bid farewell to old pals and to their alma mater, at least for now.