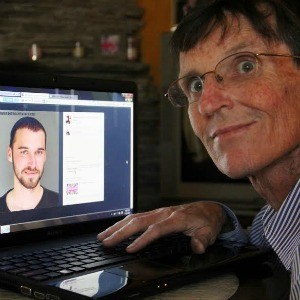 Public safety activist Lewis Roubal has been posting mug shots from local arrests in his Facebook group Santa Cruz Hall of Shame.
[Editor's Note: This is part one of a two-part story about recidivism and public safety in Santa Cruz. Part two.html runs next week.]
Lewis Roubal always liked to keep up on who was getting arrested for what in Santa Cruz. But when the 55-year-old retired contractor started noticing the same faces over and over again, and couldn't keep up with how often they were getting arrested, he figured it was time for a Hall of Shame.
Last fall, Roubal, who describes himself as a "visual thinker," started a Facebook group called Santa Cruz Hall of Shame, and began posting mug shots from recent arrests—all of them available on mugshotssantacruz.com, a free website that operates on advertising revenue.
"This is our way to let business owners know," says Roubal, who has joined me for a chat at Woodstock's Pizza along with his friend James Burtnett. "We're not saying all these people are guilty. It's just mug shots. This way, business owners can see who's walking into their store. They might want to keep an extra watch out."
On his tablet, Roubal has the mug shots of Fidela Curiel, who has been arrested 10 times since Aug. 24—including a two-day span when she was arrested three times. In the first one, she has a smile and a striped pink top. Her highlighted hair is brushed off to the side. Santa Cruz Police booked her under suspicion of being high on methamphetamine and possessing drug paraphernalia. Her hair color changed a few times over the month. By Jan. 10—her most recent arrest—a picture shows her face red and puffy, her hair and clothes disheveled. She is looking down.
Roubal, who has brown hair, glasses and a smile that hardly ever leaves his face, says the group's focus is primarily on repeat offenders that he says are draining the Santa Cruz Police Department's resources. Between January 2011 and April 2013, 146 people accounted for 3,598 arrests, according to the SCPD.
"It's just amazing the revolving door that our court system has, and there's nothing we can do about it because the judges are running unopposed," Roubal says. "They put their name there, and no one opposes them, or they get appointed. Everyone has to have something to answer to in life. That's the way I feel. Checks and balances."
"It's not the police. The police arrest them," adds Burtnett, who grew up in Florida and Georgia, and has a Southern accent. A Facebook friend invited Burnett into the group, and he's been a frequent poster ever since. "It's the judges that let them go after the police put them in jail. That's the big problem. As you can see, they get arrested. The police have no problem with arrests. It's just that once they get them, the judge says, 'see you later'—out the door they go. Then they come back the next day, or later on that day."
When it comes to Facebook, Roubal doesn't just post local mug shots, which are public record. People also post news stories and celebrity mug shots for Justin Bieber and the much-maligned Elf the Shelf Christmas toy. With the group currently at 600 members, Roubal says he doesn't care if it ever gets 7,000 people like Take Back Santa Cruz. "My ego's not like that," he says. He's focused on spreading awareness.
But whether the local business owners Roubal says he is looking out for need that awareness spread to them depends on whom you ask. For many, it's simply not practical enough to be useful.
"Not a bad idea in principle," says Lou Caviglia, co-owner of Louie's Cajun Kitchen. "But as far as checking these things and worrying about them, the actual using of it would be overwhelming."
Roubal doesn't plan to give up his crime watch any time soon.
"There's nothing we can do about the court system. It's just making people more knowledgeable about what is out there," he says. "It's all public knowledge."
[Next week: What's the real cause of Santa Cruz's recidivism? Judges respond.]