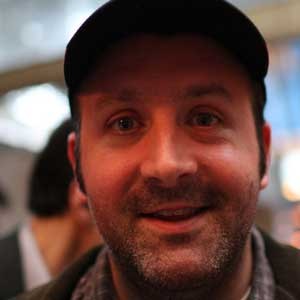 Sol Lipman is now AOL's Senior Director of Mobile. Brian Solis photo.
The outline for Sol Lipman's talk at Thursday night's TechRaising meetup would read like a standard-issue business-inspirational presentation: Your startup is a journey; it isn't about the money; don't be afraid to fail; My Five Rules for Startups.
Looking through my notes, I see all of this stuff—none of which would be unfamiliar to anyone who's been to any new-tech conference or watched a TED Talks video.
But this was not a standard-issue presentation.
For one thing, Lipman, who has started at least a half-dozen businesses here over the past 16 years, puts a distinctively authentic spin on his delivery. I'm not just talking F-bombs, although there were several, all well placed. Lipman just exudes a relaxed, blunt-yet-kind honesty laced with a fearless-yet-generous humor. Lots of Silicon Valley tech execs are pretty cool compared to execs elsewhere, but Lipman is from Santa Cruz.
Maybe more to the point, most of Lipman's stories take place in Santa Cruz. The fact that he decided to do his thing here rather than over the hill seems to have had a profound effect on the events of his career, and the accounts of his experiences illustrate some local characteristics that make the startup community here unique.
Most everyone at the talk already knew how Lipman's story would conclude: Two years ago, his company, Rally Up, was acquired by AOL. He was named Senior Director of Mobile, placed in AOL's then-new Palo Alto office, and given charge to help revitalize the venerable and struggling brand.
That rather significant success was preceded by what Lipman characterizes, only half-jokingly, as "an awesome story of regret and failure."
The story begins in a bar. Lipman was a recent UCSC grad and this new Interwebs thing was booming. At 99 Bottles of Beer, he and a handful of other local tech pioneers discussed various ideas about how to "unify the community to do tech things together." They created a "Geeks Group." They talked about launching an incubator. Finally, he says, "I decided that the best thing I could do for Santa Cruz was to start a company."
His first startup, Imagesmith, launched in 1996, was one of the early full-service web development agencies, and he was the sales guy.
"I would promise all of these awesome things," he recalls, "and then I'd say, 'oh man, now I have to make sure those awesome things happen."
Imagesmith grew to become a 30-person shop, with clients including HP, Epsom and Disney. If he'd stuck with Imagesmith, his story would probably be less interesting. But Lipman was ready to move on. So he founded something called "thedigs." And that's when things started to go sideways.
"We thought: 'Everyone is going to want to be on the web.' So we built a thing where everyone could create a page. And it would have their photo, and their friends, and their music … 'It's like … you … but on the computer.'"
He's clearly still a little bitter that he is credited with inventing one of the first social networks and is not a billionaire. "Of course timing is everything," he concedes.
Over the next ten years Lipman presided over a series of similarly brilliant flops. Thedigs was acquired by Idrive, which "acq-hired" him; while there he helped create a file-storage service—this was way before anyone heard of "the cloud," or wanted to store their files offsite. A few years later, back in Santa Cruz, Lipman launched Sticky, Inc., inventor of the Sticky Drive.
"I knew this was the big one," he says.
The device allowed people to carry everything on their computers on a thumb drive, so they could plug it into any computer. The reasoning makes some sense: These machines are everywhere, right? Why should everyone need to have one of their own?
"Turns out people want their own computers," Lipman recalled Thursday night, gesturing to his own laptop, and TechRaising cofounder Margaret Rosas' laptop, and her colleague Andrew Mueller's — all of which were within arms' reach. "I was incorrect about that one."
The next step was what Lipman calls "one of the most awesome failures of all."
Back to the bar. At The Poet and Patriot, Lipman, Rosas and several cohorts including David Beach and Jacob Knobel come up with an idea that, like many good ideas, can be summarized in three words: Twitter for Video.
12Seconds.tv allowed people to post very short video messages to a website. It became an instant sensation—some readers will remember that it put Santa Cruz on the tech map for a few minutes back in 2008.
"We didn't get an exit," Lipman says, referring to the big buyout every startup craves, "but we got a ton of press."
TechCrunch loved 12Seconds, immediately dubbing it "the true 'video Twitter'" and dismissing its competitors. And people loved it too—but not enough people.
"We had 2-300,000 users," Lipman recalls, "but that was it. No hockeystick." And no capital. "I pitched 73 VC's. Not one would give me any money."
One VC indicated that if he could show a revenue model, Lipman might be able to get funded. So he convinced several corporate clients to host 12Second video contests, inviting users to make short commercials. It was a hit. Lipman went back to the VC, and the VC declined to invest. Lipman remembers the moment clearly. "I said: 'Fuck this.'
"I was done. But I didn't want a vacation. I wanted to build another product."
Fast Forward
The Rally Up story is one of those epic startup stories, with a Santa Cruz twist. Apparently a little bored and a little pissed off, Lipman decided to rent an RV, stock it with a bunch of beer, and bring a bunch of coders to a camp in Southern California where he used to work. They'd spend a week there and build a mobile location service that would blow the doors off Foursquare.
He says he explained this to his friend Ethan Nagel over panini at Cafe Limelight.
"He thought I was joking," Lipman says, "but I said, 'No. I'm fucking serious. It's Tuesday — we leave Thursday. I'm gonna pull a fucking RV into the lot at Trader Joes, and we're gonna fucking get in the fucking RV and fucking go to Malibu!"
He recruited a bunch of developers who, like Lipman, were working out of NextSpace—Nagel, Noble, Ben Porterfield, the Lyon brothers. "They said [pause] 'we don't even know you."
Many of the people who took the leap and made that trip now work at with Lipman at AOL and are getting rich. But Lipman seems entirely sincere when he says it isn't about the money.
"Every great entrepreneur wants to build a great thing," he says. "And it's about the thing. It's not the fame. It's not the money."
Again, the metaphor Lipman chose is nothing we haven't all heard. It was the one that says if you want to get to the peak, you have to love the hike.
"It's about your thing," he told the roomful of people at Cruzio, most of whom are currently building their own startups. "That's what you're here to do. That's what your heart wants to do."
Nothing new. But still fucking true.