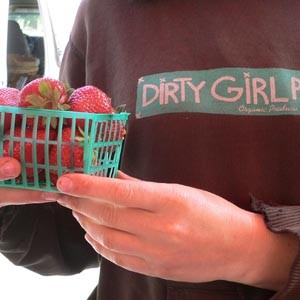 Berries and summer produce are about to be all the rage. Photo by Christina Waters.
These fragrant, succulent strawberries from Swanton Berry Farms are just some of the many indicators of warmer weather and lengthening growing conditions. Our farmers markets are now loaded with strawberries, asparagus—delicious pencil-thin asparagus this week from Hog Farms—young red onions with long slender leaves, broccolini, tiny zucchinis and of course fava beans, the ultimate herald of springtime. But don't just take my word for it. Make sure you visit your own neighborhood farmers market every week. For a full schedule of locations, days and times of the Farmers Market near you, visit www.santacruzfarmersmarket.org.
BIG SHOT CHEFS I'm heading up to panoramic Vine Hill and Love Apple Farms this weekend for what should prove an astonishing alfresco dinner. The first of the Iconic Chef Farm Dinner events will feature the handiwork of chef Josiah Citrin, owner of the two star Michelin Melisse Restaurant in Santa Monica. Details in my next column. But just to give you foodies a heads up, the next in the series of dinners up at the farm that grows for David Kinch's two star Michelin Manresa will showcase the work of recent Iron Chef winner Dominique Crenn, voted 2008 "Chef of the Year" by Esquire Magazine. The dinner is scheduled for Sunday, June 24, 4-8pm, and priced at $165 for 5 courses, all-inclusive.
UPDATES Paul Geise over at Ristorante Avanti projects an opening date of "maybe the end of next month" for the new installation. Stay tuned!. . . A new restaurant, Suda, sister to the popular Harbor Café, is coming to Portola at the site of former Rock of the Sea. … And David Kumec's incredible handmade ice creams will have a new Mission Hill Creamery home on Pacific Avenue later this summer. Stay hungry, my friends!
BARGETTO RELEASES LA VITA Founded in 1933 in Soquel, the Bargetto Winery is the oldest winemaking operation in the area. The annual release of the custom house blend, La Vita, is cause for celebration. Next week the new 2008 La Vita will be released, a blend of 56 percent dolcetto, 24 percent refosco and 20 percent nebbiolo. After 2 1/2 years in oak, plus an additional one year just for luck, La Vita will be unveiled at a party at Bargetto Winery on Sunday, June 3 between 3pm and 5pm. Each year a portion of the La Vita sales support a local non-profit organization—this year it's Shakespeare Santa Cruz. Tickets $20 tickets at 831.475.2258 x 10.