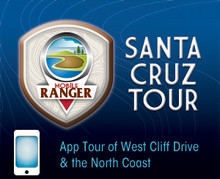 Edit
App Tours of Santa Cruz
About App Tours of Santa Cruz
Mobile Ranger-Santa Cruz is a self-guided mobile app-tour of West Cliff Drive, the Municipal Wharf and the north coast of Santa Cruz. It's two tours in one app! The West Cliff/Municipal Wharf tour is a walking tour. You'll learn about the wave motor of the 1890's, the "toilet bowl" formations lurking within the local rocks, why Lighthouse Field is still a park and not a beach front shopping mall, and why Santa Cruz is the true "Surf City, USA!"

The North Coast tour is a driving tour—though you will want to get out of your car and spend time at each stop. You will find out how the local rocks control much of what the coast looks like, how railroad barons stole the ocean view, and how the "Cement King" built Davenport and then lost it all. Includes author-recommendations for choice local museums, hotels and restaurants and coupons such as 2-for-1 museum entrances, and 2-for-1 wine tasting, worth over $50.
Learn the hidden history of West Cliff Drive, the Wharf and more. Download the app and take a virtual park ranger with you!