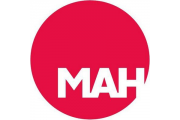 Edit
Santa Cruz Museum of Art and History (MAH)
Hours:
Mon-Thu, Sun:
10:00 am - 7:00 pm
/
Fri:
10:00 am - 8:00 pm
/
Sat:
10:00 am - 3:00 pm
/
About Santa Cruz Museum of Art and History (MAH)
The MAH is a place where there's always something happening. All year long they host truly 'only-in-Santa-Cruz' events and exhibitions.
The MAH's mission is to ignite shared experiences and unexpected connections. To do this, they find, spark, preserve, and trade stories, ideas, and elements of creativity drawn from people across Santa Cruz County. Ultimately, bringing people together around art, history, and culture to build a stronger, more connected community.

The MAH's community space also includes Abbott Square—an outdoor public plaza that includes restaurants, two bars, live music every weekend and family-friendly fun.

Come stop by to explore inspiring exhibitions. Meet new friends at weekly community events. And sip some coffee among the art and greenery.
Santa Cruz Museum of Art and History (MAH) Videos