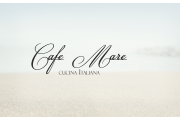 Hours:
Mon-Fri:
11:30 am - 10:00 pm
/
Sat, Sun:
10:00 am - 10:00 pm
/
About Cafe Mare
Café Mare's spacious dining room always has a soothing effect. The staff provides plenty of space for in-depth conversation without ignoring patrons' needs. And the location is perfect for Pacific Avenue sightseeing. - Read the Full Review

-------
Articles mentioning Cafe Mare
The best places to get your pasta on, according to the 2011 Santa Cruz Weekly Reader Survey. Buon appetito!