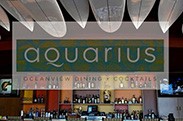 Hours:
Mon-Sun:
7:00 am - 10:00 pm
/
About Aquarius Restaurant
Located just off the beach in Santa Cruz, Aquarius is an oceanfront Santa Cruz restaurant serving fresh and local seafood in a cool and breezy interior.
Aquarius is a Santa Cruz restaurant offering the best in oceanfront dining and is locally renowned as one of Santa Cruz's top dining destinations. Located just off the beach in Santa Cruz, the restaurant is truly a "window box on the sea" allowing guests to experience views of the Santa Cruz oceanfront. The cool and breezy interior is especially romantic at night when the moon casts its glow onto the sea. Our creative American cuisine is inspired by fresh and local products and produce, including local sustainable seafood, complemented by a regional wine list. Aquarius is a proud supporter of FishWatch program, promoting sustainable seafood and clean oceans.