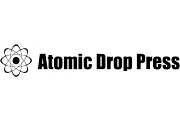 Edit
Atomic Drop Press
262 Blue Ridge Drive
, Boulder Creek
, CA
95006
|
Directions
Hours:
Mon-Fri:
9:00 am - 5:00 pm
/
About Atomic Drop Press
Atomic Drop Press is a book and ebook publisher dealing in smart, funny, off-beat fiction and non-fiction.
Intelligent and humorous books. How often does that happen?
ADP currently offers:
The Beaver Papers 1 & 2
USA or Bust
The Max Kleinman Reader
with more on the way.