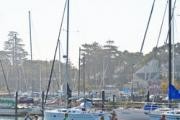 Edit
Covewater Stand Up Paddle
Hours:
Mon, Wed-Fri:
10:30 am - 5:00 pm
/
Sat:
10:00 am - 6:00 pm
/
Sun:
10:00 am - 5:00 pm
/
About Covewater Stand Up Paddle
Northern California's Stand Up Paddle Headquarters. Stand Up Paddling (SUP) classes, tours, rentals, equipment and accessories. Covewater has been providing standup paddleboarding in Santa Cruz, the Santa Cruz Harbor and Capitola since 2010. Stand-Up and see life from a whole new perspective!
F
alling somewhere between canoeing, kayaking and surfing, standup paddleboarding is an activity that affords a serene connection with the pristine waters of the Monterey Bay unfound in other water sports.
???You???re on the ocean. You???re standing. You???re gliding. And it just clicks with people almost every time,??? says Scott Ruble, founder of Santa Cruz???s Covewater Paddle Surf.
With its roots in historical paddleboarding watercraft such as reed canoes and gondolas, standup paddleboarding first arose on the beaches of Waikiki in Hawaii.
???The current iteration really came about with the Waikiki beach boys, the local kids who taught tour-ists how to surf,??? says Ruble. ???They

went out on these big, wide boards so that they could stand the whole time and see the tourists better, and watch the waves coming.???
When iconic surfer Laird Hamilton had the idea to combine the bigger boards he was utilizing to exercise on calm days with a canoe paddle, others took notice, and the sport began to take off.
???Next thing you knew, a lot of the guys were doing it, and it spread into the mainstream,??? says Ruble.
Covewater Paddle Surf was founded in 2010, just as paddle-boarding began to grow in popularity on the West Coast, and presently serves as one of the biggest ambas-sadors of the sport in Santa Cruz County. The shop offers paddle-boards of all shapes and sizes to

rent ($30 for a full day rental), buy, or rent-to-own, in addition to classes and tours on the Monterey Bay.
As far as the ideal areas to paddleboard in Santa Cruz County, Ruble points to Cowell???s Beach, Capitola Beach, and one of his favor-ite spots to paddle, New Brighton State Beach.
???It???s always the calmest beach in the county,??? says Ruble.
For those who are hesitant to give standup paddleboarding a shot, Ruble stresses that the sport is appropriate for nearly everyone.
???There is a paddleboard for everybody,??? says Ruble. ???Once someone gets out and they stand up, they???re hooked.???