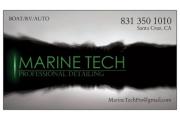 Edit
Marine Tech Professional Detailing
431 36th Avenue
, Santa Cruz
, CA
95062
|
Directions
Hours:
Mon-Tue, Thu:
5:00 am - 10:00 pm
/
Wed:
6:00 am - 8:00 pm
/
Fri:
5:00 am - 8:00 pm
/
Sat:
9:00 am - 8:00 pm
/
Sun:
9:00 pm - 3:00 pm
/
About Marine Tech Professional Detailing
Marine Tech Professional Detailing caters to recreational, professional, and commercial vessel needs with timely, cost- and value-efficient, and environmentally & resourcefully considerate strategies.

Boats, autos, RVs... We're your detailing pros!
What we offer (Boats / Autos / RVs):

Cleaning
Washing
Waxing
Detailing
Express Wash & Wax
Scheduled/Periodic Maintenance
Debris Relief Treatments (esp. due to anchovies/sardines, birds, seals, fishing season)
Mold/Mildew Treatments
Oxidation/Rust Treatments
Fenestration Treatments (Windows, Windshields, Portholes, Biminis, etc.)
Softcover Treatments (Canvas, Vinyl, etc.)
Deep Cleaning/Pressure Washing/Trouble Area/Stain Treatments
Disaster (Natural & Otherwise) Clean-Up Treatments
Pre-Sale Staging Treatments
After-Party/Post-Fishing Clean-Up
Race/Showcase/Showroom/Special Event Presentations
Storage Wax
Marine Tech Specialty Professional Treatments (such as Seasonal Protective Coatings, High Gloss Finishes, Low-Water Use and Zero-Rinse Use Solutions, and more!)

Start now!

Step 1. Simply e-mail us your contact and vessel information, a description of the work you need (interior, exterior, wash, wax, seal, etc.), and provide your schedule (deadlines, availability, etc.).

Step 2. We will contact you to discuss related recommendations, work coordination and schedules/appointments.

Step 3. Let us take care of you!

Step 4. Enjoy your ride!

We consult with you throughout our process to identify your most suitable options to help preserve the integrity, beauty & value of your investment.

Learn more:

Contact us anytime! Our Google+ page contains our latest updates, service menus, service locations (https://plus.google.com/+MarineTechProfessionalDetailingSantaCruz/about?hl=en&_ga=1.7400626.1297948362.1439825646 or
http://MARINE.joomla.com)

Professional Quality. Reliability. Value. Vessel Cleaning Treatments brought to you by Marine Tech Professional Detailing!