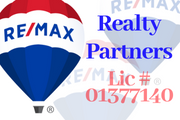 Robin Bezanson, Re/Max Realtor
267 30th Ave, Santa Cruz, CA 95062
(831) 325-2881
About Robin Bezanson, Re/Max Realtor
Serving homeowners in Santa Cruz County with their Real Estate Service needs since 2003. Team of Santa Cruz local Neighborhood Specialists working with buyers, sellers, investors and vacation rentals.
Our philosophy is very simple, a home is more than a house. A home is where memories live, where life's passages are marked, accumulated in scrapbooks or by tiny pencil marks on a door frame that record the growth of a child. A home is where the troubles of the world are left behind, where we go to share in the warmth of family, and to find the love that keeps us going every day of our life.

Whether you are buying or selling a home, a home shares a lifetime of security, the laughter of children, and the tender moments that make life worth living. It is the single largest investment we have in our lifetimes. To purchase or to sell your family home is a decision so important, that you should only do business with someone you can trust.

We would like to be that someone.

We are a real estate professional team who understand the worries that accompany making such a major decision. We will become partners in all your real estate decisions, and we will assist you by answering your questions and handling the details. We provide the best service possible for every person we represent. We shall be honest, loyal and sincere.

Every Buyer and Seller we represent shall be treated with the utmost respect and fairness.

Our work, time, and energy will be given in a helpful, caring, and professional manner so that our services will be appreciated and highly recommended.