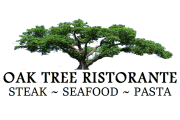 Hours:
Mon, Wed-Thu:
10:00 am - 10:00 pm
/
Tue:
4:00 pm - 10:00 pm
/
Tue, Fri-Sun:
8:00 am - 10:00 pm
/
About Oak Tree Ristorante
Oak Tree Ristorante is nestled in the heart of the Santa Cruz Mountains with surrounding redwoods, rivers, wineries, and the sounds of the steam engine in the distance.
The newly refurbished restaurant has a warm and welcoming ambiance inside and out. Enjoy dining in a storybook setting, serene garden views, the gentle sounds of our fountain, and overhead, the sheltering arms of our spectacular giant oak. We serve lunch and dinner 6 days per week, and breakfast Friday through Sunday.
Articles mentioning Oak Tree Ristorante
This is where to find not only the best dishes in Santa Cruz County, but the best restaurants for romance, great views and more.