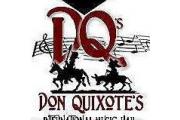 Edit
Flynn's Cabaret & Steakhouse
Hours:
Mon-Sun:
11:30 am - 1:00 am
/
About Flynn's Cabaret & Steakhouse
Flynn's Cabaret and Steakhouse is a multi-genre club concert venue, restaurant and bar, attracting music lovers from all over Santa Cruz County, Central and Northern California and beyond.
We are extremely proud to introduce Flynn's Cabaret and Steakhouse! Not only will we continue to present the finest in world-class musical entertainment, we will now be offering an exceptional dining experience to go with it.

Flynn's introduces a fantastically tempting menu bursting with farm-to-table selections ranging from fresh sustainable seafood to the finest hand-selected grass-fed beef and delectable vegetarian dishes. There will also be a full salad bar and gluten-free options. With an expanded cocktail menu and an exciting lounge and dining room remodel now underway, Flynn's in Felton is where you will feel at home inviting friends and family to dinner and a show – the best evening out anywhere in the Santa Cruz Mountains.