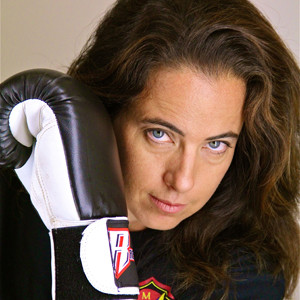 Analicia Cube, founder of Take Back Santa Cruz group, says she never expected the group to grow into what it's become.
It took me a month to get up the courage to tell Analicia Cube where I work. When I did, she rolled her eyes and said, "I'm sorry, but the Santa Cruz Weekly is no friend of mine."
I met her in a martial arts class we both take a couple days a week at Minorsan, a gym on Santa Cruz's West Side. I didn't realize for two weeks that the curvy, bespectacled woman who always gave me a cheery "hi hon!" before class started was the founder of Take Back Santa Cruz, one of the most controversial activist organizations in Santa Cruz's history.
Her group has a large, loyal following in Santa Cruz, and just as many passionate critics—but almost no one who doesn't have an opinion one way or the other. Many associate Take Back Santa Cruz with NIMBY-ism, xenophobia and, in particular, an agenda against the homeless. They would no doubt picture such a group's leader to be cold and bitter. Instead, I found that Cube was welcoming and gracious, plugging upcoming trail dedications during class announcements rather than getting up on any political soapbox.
When I told her I wanted to profile her, Cube was skeptical at first—in her repeated dealings with the media over the course of TBSC's four-year history she has learned which news outlets she can and cannot trust. The Weekly has been teetering on the edge of her ignore list for some time, most recently because of a story we ran about TBSC Director of Communications Steve Schlicht posting on the group's Facebook wall that he would be "fine with junkies dying."
She agreed to the story, but not without losing some sleep. A couple days after our interview she came into class late, and highly stressed out.
"I'm really nervous, and I'm second-guessing this whole thing," she said, pulling her thick brown hair into a ponytail and tightening her purple belt around her waist. She told me that some people in Take Back's inner circle had gotten her freaked out, thinking the only reason I joined this class at all was to get close to her, coerce her into talking to me, and then twist her words to make her look terrible in print. I told her I would do my best to be fair. Then she shrugged, and laughed, and told me that if she didn't like the story, she would just have to kick my ass.
Power Player
Take Back Santa Cruz does things like rally people to clean up garbage, connect the police department with business owners who have surveillance cameras, and hold "positive loitering" events, where Take Back members hang out on corners known for drug dealing and prostitution, and offer smiles and hot chocolate to passers-by.
It sounds simple enough, but it doesn't explain the group's appeal, or the ferocity of its critics. In the four years it has been in existence, Take Back has grown into one of the most influential grassroots organizations in Santa Cruz, and become a powerful player in local politics. During the 2010 election, the group hosted a city council candidate forum in San Lorenzo Park, which all eight candidates attended—a feat the Sentinel called a sign of the group's "growing clout." Then in 2012, city council candidate Pamela Comstock's reputation as a co-founder of Take Back, and her personal relationship with Cube (who is a cousin of Comstock's husband), played a significant role in her eventual election—while she had no former political experience, her alignment with the activist group sealed her status as "the public safety candidate." Once elected, she was given a seat on the coveted Public Safety Committee, along with city council veterans David Terrazas and Cynthia Mathews.
The group's reach goes on. Co-founder Dexter Cube (Analicia's husband) currently serves on the Downtown Commission, and her sister, Heather Babcock, has previously served on the Commission for the Prevention of Violence Against Women.
Perhaps most significantly, Take Back Santa Cruz has become the group to which many community members turn when bad things happen. A week after the murder of Shannon Collins last year, it was not the city government, but Take Back Santa Cruz, that led a march by hundreds of residents to mourn her death. The crowd packed Pacific Avenue.
Birth of a Notion
Take Back Santa Cruz didn't always have the power to draw hundreds of people to the streets, stopping traffic. It started small, with four moms at a city council meeting.
In the fall of 2009, spurred into action by the fatal stabbing of 16-year-old Tyler Tenorio, Cube, along with her sister and sister-in-law, and their friend Kirsten Attlesey, decided to go to a Santa Cruz City Council meeting. Attlesey created a Facebook event so they could let their friends know they were going, and on a whim called it "Take Back Santa Cruz."
Recalling it now, Babcock—who is four years older than Cube, with long, wavy hair and a tranquil demeanor—says her children were her main reason for wanting to get involved.
"We were just a bunch of angry mothers, basically. I thought, 'I want my children to grow up in this town, and my son could easily be Tyler Tenorio.'" These days, she works almost exclusively behind-the-scenes, doing the books for Take Back and managing her own accounting practice in a small cottage behind her West Side Santa Cruz home. With the group's rapid growth, she says the workload to be a spokesperson would be too much for her.
But it suited Cube, who Babcock says has always been good at talking to people—a trait she suspects comes from their childhood spent as the daughters of a Marine, moving around a lot and constantly having to make new friends.
At that first city council meeting, Cube stood up during the public comment portion and, without planning to, said something that would set her up for a future as one of the heaviest political hitters in Santa Cruz.
"They said, 'Does anyone want to say anything?' and I got up and I just…I just said what I thought. I just got up and said 'This is ridiculous. Something's goin' on in this town. I don't know what it is, but we've got a problem.' I just sort of said, 'From now on, you're gonna see our faces.' So I sat down, and then the Sentinel was like, 'Oh, what's your name?' No idea what I was getting myself into. Next day I'm on the cover of the Sentinel—'Analicia Cube: Mom!' You know, 'Enough!' Agh! It was crazy. I was like, 'Oh my, oh geez.' All I did was go to a council meeting."
A few days later was Halloween, and Cube and Babcock plus their husbands and a few others donned costumes, assembled their kids and headed downtown with a car full of posters that read, "We support the Santa Cruz Police Department." They stood outside O'Neills on Pacific Avenue with the signs, which said "Join us on Facebook" along the bottom.
"I'm thinking 30 people are going to sign up. It's a way for us to connect to people and say, 'There's gonna be a city council meeting on Tuesday, and this is what they're covering,'" says Cube. "We went home, and we had over 1,000 people signed up."
Going Viral
In four years, Take Back Santa Cruz's Facebook page has swelled to over 6,000 members, and Cube says as many as 500 comments are posted to its wall in a single day—moderating them is nearly impossible, she says.
Ostensibly a place to discuss community issues and arrive at productive solutions, the things people write on Take Back's Facebook wall are a mixed bag. There are plenty of comments each day about lost and found pets and bikes. Or people will solicit help on things like how to clean up graffiti or get more street lights in their neighborhood. There are a lot of photos posted of garbage and needles collected from community cleanups.
But few people outside of the group really talk about that aspect of its Facebook presence, thanks to a contingent of Take Back Santa Cruz members who write unabashedly hateful and downright disturbing things. A brief scan of Take Back's Facebook page on an otherwise uneventfulWednesday yielded this comment from a group member: "If you go downtown be prepared to use some ultra violence or don't go downtown. I'm not trying to be some vigilante asshole but get real people…A super tough stance needs to be taken by the powers that be—that will be. The ones in office now need to go and be replaced by community members that will get it done. If you feel uneasy and threatened when you're downtown then it's because you have entered an uneasy and threatening environment. Take charge, defend yourself, however you see fit, but whatever you do, don't be the victim."
Cube is at a bit of a loss on how to handle comments like the one above, which clearly affect the perception of her organization.
"I can see sometimes how people would say, 'Oh, Take Back Santa Cruz is this and that,' just because some people on the [Facebook page] say something," she admits. "It's tough, because you have a bunch of people in there that might be saying things I completely disagree with, but who am I to say, 'This is Take Back and I'm the queen, and I don't agree with you?'"
She says comments are taken down, or members are kicked out of the group, for using racist language or personally attacking another member—activities that she likens to running into someone's living room and screaming obscenities in the middle of an otherwise calm discussion. While reporting this story, a number of people claimed to me that you can get kicked out of the group for being linked to counterculture organizations like SubRosa anarchist café or Guerrilla Drive-In, or for simply promoting the concept of compassion, but Cube denies this.
The unwieldy nature of the Facebook group can be traced to the lack of foresight that went into Take Back Santa Cruz's creation, something to which Cube freely admits. She calls herself an "accidental activist."
She adds, "I didn't mean to do this. This wasn't my goal. This isn't something I ever set out to do. Ever. Like, nowhere close."
Hard Lessons
Four years later, Cube has settled into the role of activist/business owner/mom. At the downtown office where she and her husband Dexter run H.Q. Solutions, a business consulting company, she wears jeans and a white button-up with little flower cutouts, and sidesteps the bins of plastic toys she keeps in her office for when her kids visit. The white board above her head has nothing on it but a bright green squiggle—despite the full set of erasable whiteboard markers she owns, her child decided to color with the permanent marker.
"Of course, right?" she says.
Switching into activist mode, she recalls with wild eyes the education she's received over the last few years about how Santa Cruz runs, and how Take Back Santa Cruz fits in.
"It's interesting. It's crazy. It's scary. It's like 'Wow, okay.' I've learned a lot. I was totally naïve to the process," she says. "There's political power, there's financial power, there's people that are hopped up on all these things. I'm not motivated by any of that, and they know that, and that bothers them. I don't need your money, I don't need your power, I don't need your politics, I just want a nice place where people—all people—can feel safe."
As far as how to create that place, Cube has some ideas. "So the first thing you need to do is stop being an attraction, right? You try not to attract every person who's addicted to drugs," she says. "We're dealing with organized drug cartels. We need to work that angle, so that'd be more enforcement."
She also believes in more funding for drug-addiction help, and, as a board member at the Santa Cruz Teen Center, puts an emphasis on drug education for kids. She also believes in reform of the correctional system.
"I believe in jail and prison, but it's not helping anyone. It's not rehabilitating anyone. No one's coming out of there better," she says. "But if we could find other creative ways, like you're going to do 300 hours of community service—make it suck. Like, 'This sucks. I don't want to commit crime in Santa Cruz because I'd rather sit in jail.' I've sat and talked to a lot of the prisoners and guys from jail that do some of it, and they actually appreciate it. They feel like they're doing something. That's human. That's human."
During Comstock's run for city council last November, a flier circulated that claimed the group's mission was to "get rid of people they consider undesirable." Talking about it now, Cube laughs and says, "Whatever! You know, that actually helped Pamela win, so I love it. I actually love it. It's funny to me.
"When you take a hard line on something, that's life," she continues. "I would 'get rid of people who are undesirable.' Yeah, I mean, that's an easy way of saying I want to figure out where these criminals are coming from and I want to either rehabilitate them and get them on the right path, get them back where they need to be or get them the hell off my street and out of my town."
It is this kind of talk that sometimes gets her into trouble—at least in Santa Cruz, where compassion is valued as much as decisive action. But Cube spent several years in New York before moving back here. She saw Giuliani clean up Times Square, and she lived through 9/11. She calls herself "brutally honest," and says it is both her best and her worst quality.
Take Back from What?
The most popular complaint about Take Back Santa Cruz is also the most obvious: "Take back from what?" Even Cube herself says she wishes she had thought to call it something different, more positive-sounding.
"If I had known that it was going to be this big, I would have called it, 'I Like Rainbows and Unicorns' [or] 'Lets Fly Together on a Rainbow.' I don't know what I would have called it," Cube says. "But the answer to the question is from the abusive gang, drug behavior."
Cube has been called racist, which she finds funny. "My husband is not white. If you think being against crime in Santa Cruz is saying I'm against brown people, you're saying youthink that criminals are brown," she says. "I don't think that. As a matter of fact, I think that a lot of the people I see doing crimes in Santa Cruz are white."
Another point of contention is the group's perceived hounding of the homeless. Cube is adamant that's not accurate, and in her repeated dealings with the press she has been careful never to point the finger at the homeless population, directing her animosity instead to "gang bangers and meth tweakers." She says, "This is not about the homeless. Those are our most vulnerable. They're the people who need to be helped the most. It's about everybody being having their best quality of life and not being preyed on by criminals."
But what about when the homeless also happen to be criminals? This is where Cube gets stuck. She has been a supporter of the Homeless Services Center, and says she and HSC Executive Director Monica Martinez were "like besties" until about two months ago, when Martinez agreed to provide beds for non-violent offenders released from state prison in accordance with Assembly Bill 109.
"Having felons with children, it just set me over the edge to be honest with you, and Monica and I kind of had a falling out," she says. "Because those people could be from anywhere. That's the thing. Now I've got some guy who's from Sacramento, and she's like, 'We can try to get him permanent housing.' Well, I don't want him to have permanent housing here!"
When asked about the program, Martinez told the Weekly that AB109 only pertains to former offenders who were convicted within Santa Cruz County.
"Ending homelessness in Santa Cruz isn't about personal friendships, but about community collaboration grounded in common values such as equality and dignity," she added. "Santa Cruz County's response to the AB109 mandate is based on evidence proven to decrease recidivism and increase public safety. Evidence shows that if people aren't on the street, they are less likely to offend."
Coffee with Anarchy
When asked who her biggest critics are, though, Cube has a very specific answer. "Anarchists, right? Yeah we all know that's true. Right? Black Block anarchists especially are the ones that hate me. They haven't liked me since day one, because I support the police department," she says.
Indeed, Cube has had a contentious relationship with the anarchist community for some time. She says things came to a head in 2010, when someone found her home address and posted it on the alternative news website IndyBay, along with a thinly veiled death threat. She alerted the police, but she also did something unconventional—she invited one of her most prominent IndyBay critics to coffee.
Wes Modes is a local anarchist thinker who at the time was a member of the Sub Rosa collective. Cube says he was one of her main critics on IndyBay, where he was "fueling some pretty crazy stuff."
She says, "He had made me out into this monster—not even a human—and was selling this monster to people."
But Modes had once indicated in an IndyBay article that he would have coffee with Analicia, so she decided to take him up on it.
"I called him. I'm like, 'Hi, it's Analicia Cube.' And he was quiet and he goes, 'Uh, oh my God, really?' And I felt like he really truly did think that maybe I would try to hurt him. He was freaked out that I had just called and said, 'Hey, what's up, let's have coffee.' I think that having coffee with him was one of the smartest things I've ever done. Because he got a chance to see that I'm a human being," she says. "Ever since then we've had a fairly amicable relationship."
Modes told me he wasn't the one who had made the aggressive IndyBay posts, but he did agree to meet and discuss his perspective on Take Back Santa Cruz. He is mild mannered with soft features, and brought a small service vest-clad dog with him to the coffee shop where we met.
He says he likes and respects Cube personally, and can't recall having too many preconceptions about her before they met.
"I think I was really open. If she was willing to meet with me, I figured she's be okay to talk to," he says. "I mean I can't remember who reached out. I think I reached out to her, I didn't hear anything, I think it was kind of like shouting down a well for awhile, then I think at some point she must have had some personal shift where she wanted to move me from, like, the 'feared other' category to the 'known quantity' category, I guess."
"My friends thought I was largely insane," he admits. "I think maybe what surprised me was that we had so much common ground in terms of understanding the problems. I think that surprised her, too, that I was willing to acknowledge that there were problems. She might have been surprised that we agreed on community solutions. The part that we won't agree on anytime soon is the reliance on the police," he says.
In fact, Modes says that at the very beginning he and other anarchists were actually excited to hear about Take Back. "Like, Take Back Santa Cruz—hell yeah, we should take back Santa Cruz for everyone," he says.
Fear Factor
Less than a couple hours after I met up with Modes, I went home and discovered a new email from an anonymous source in my inbox.
We heard a rumor that you might be writing a piece about Analicia Cube, it read. At this time we are not comfortable writing you with our real names, but we have paid attention to TBSC from their inception and had an ongoing string of problems with them.
The email went on to accuse Take Back Santa Cruz of scapegoating the homeless for the crime in Santa Cruz, and only using anti-gang rhetoric for show. It said it has first-hand sources who know for a fact that the group has misrepresented the amount of needles it has found on cleanups, and mentioned a flyer that the group put out with two color mug shots of innocent men with the words "bike thieves" written underneath them and the initials "TBSC." (When I asked for a copy of the flyer I didn't get a response.)
The validity of the letter's complaints aside, it is intriguing that whoever wrote it felt the need to remain anonymous. Like the impression Cube got when she called up Modes for the first time, people are scared of her. People are really scared of her. Even politicians, she contends.
"They're scared, they're kind of afraid of us. Because they know that we're just gonna tell it like it is. 'Shhh. There's no crime. No no no no no.' I'm like, wait a minute. There are some tough things going on here and all you need to do is stand up and say, 'Hey, we got a situation, let's fix it,' rather than pretend like it's not happening," she says of the local political establishment.
City council member Micah Posner says he appreciates how Cube and Take Back Santa Cruz have opened his eyes on some of the issues Santa Cruz faces, but is wary of their methods for getting the message out.
"I know I've been more clear about the amount of drug dealing that goes in in my neighborhood, for example, and why it's a problem. I'm not so much in denial," he says. "But my concern about Analicia and Take Back is that people get together around her and that group when they're afraid, and taking action from a place of fear is dangerous."
Cube is well aware of how and why people come to Take Back.
"You only see my face when some shit's going down," she says. "I learned that over the years. We're the place to land."
She felt this most acutely, she says, when SCPD officers Loran "Butch" Baker and Elizabeth Butler were murdered in February. Cube was at a city council meeting when it happened.
"When they were murdered I felt a lot of people turn and go, 'Oh, my God,' and I've got people crying, I've got people angry, I've got all of these emotions and that feeling of responsibility that they feel like I'm their voice, you know? 'Oh, my God, what are we gonna do?'"
Hard Core
While Cube may not have anticipated just how big Take Back Santa Cruz would become, it wasn't something that just happened by chance, either. On a rainy afternoon at her home office, Babcock reflected on why the group she and her sister founded four years ago has lasted.
"If it wasn't for Analicia, Take Back Santa Cruz would probably have been defunct within a year," she says. "People listen to her. She can encourage people to do things that they might not normally do."
She says Analicia is the strongest person she knows, besides their father, a Marine who raised them with the motto, "Suck it up."
"She's just a bull," she says. "When people attack her, it almost gives her energy, it almost makes her just want to prove something to people. If she was going to quit, it would be on her own terms, it wouldn't be because somebody attacked her, because that would be showing a weakness that she would not want anybody to see."
At a city council meeting on March 12, less than a month after officers Baker and Butler were gunned down, Cube addressed the council and the dozens of people in attendance. In a smart gray suit jacket, she was a commanding presence, dressed more like a politician than most of the council. She stood at the podium visibly shaken, holding back tears.
"We cannot make any more excuses, we can no longer enable criminal activity," she said. "The theft, the crime—people are going to start coming into people's homes." Her voice got louder, and then more forceful. "And don't call me afear monger—that's going to happen. You got it? It's going to happen." At this, the crowd erupted into raucous applause, and she took a beat, then changed her trajectory. "It is. It already is happening. We need to turn it around."
Her final lines, which had to be practically shouted in order to be heard over the applause and whooping coming from the audience, were the stuff of classic Hollywood sports films: "You guys have the power, you have the strength. I know you have it. You have it. You have the strength. Take it. Do it. This is our chance. I believe in you. I believe in you! You have it! Let's do it!"
When I asked Cube if she was scared—to be so public, and so hated by so many people who don't even know her—she said no.
"I've always said, if my head goes floating down the San Lorenzo River, it's just going to piss people off even more, and it's going to make Take Back Santa Cruz even bigger. You think we have six thousand members? Have my head floating down San Lorenzo River, I'll have twelve."