If Jozseph Schultz had to choose a favorite spice, it would probably be sumac. At least on this particular Tuesday evening, just before the dinner rush at India Joze. The metallic chime of kitchen gadgets follows the chef as he jumps up and disappears into the kitchen, returning with a tiny white dish. At its center, a dash of powder radiates burnt crimson in the particulate-golden sunlight now filtering through the sidewalk bamboo that muffles Front Street. Sumac, which is also used as a dye, and to tan leather, is tart and slightly sweet like tamarind, with a salty finish.
"This is a spice you put on late. A lot of spices have to be cooked," says Schultz of the Middle Eastern spice. "They use this on grilled meats, certain salad dressings. It's a good example of a spice a lot of people might not know. It's pretty, it garnishes foods well, and it's very easy to use because you don't have to put it in early."
Later, when I see the vibrant dust sprinkled over white yogurt, next to light green slices of Persian cucumbers, its value as a garnish makes a lasting impression.
But asking a chef to name their favorite spice is like asking a musician to name their favorite note, or a writer their favorite word.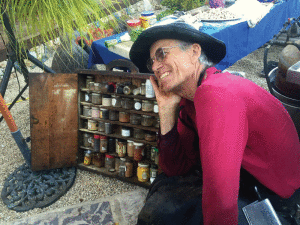 "Spices are like colors, they don't exist in a vacuum. All flavors and aromas exist in relation to other flavors and aromas," answers Schultz. "So it's really impossible."
The thing is, we are always surrounded by aromas and flavors, including the aroma and flavor of our own mouths, explains Schultz. And when you are tasting something all the time, you lose the ability to taste it.
"So the thing about spices is they create change," says Schultz. "And the change is something you notice. Because if you keep eating the same flavor, it doesn't matter whether it was a good flavor or not, it's just not there anymore."
Spices create contrast. They wake us up, says Schultz. The beloved fixture of Santa Cruz dining has been cooking with "all sorts of roots and berries and spices" for some 45 years now, and says he was attracted first to Indian cuisine because they use more spices than any other culture, and in very specific ways. It's never usually any one spice, but an intricate, region-specific tapestry that people identify with.
"What good cooks do is make a dinner sort of a journey. You've got a lot of different flavors and aromas and textures, so your mouth is never tiring of any one of them," he says, noting that some spices, like vanilla, are overpowering, and can cancel out all other spices in a dish, which is why they're typically served in desserts. "You just want to give your mouth a rest, give a certain part of your taste buds a rest, and engage others. That's what our relishes are about, too."
At India Joze, coriander and cumin and turmeric and opium poppy seeds and asafoetida and galangal—and a long list of other spices—dance through the Middle Eastern and Asian dishes (many recipes of which can be found in Schultz's cookbooks, as well as online). Their nuances extend to the star anise that peeks out of his Thai iced tea, and the floral notes of orange blossoms in the housemade ice creams. A table of relishes offers up even more variation: spicy mint-cilantro-cashew and sweet ginger-raisin chutneys, Kaffir lime salsa, and spicy Yemeni Foenegreek sauce, are just a few examples.
And aside from flavor, spices bring hundreds of thousands of aromas to the table, Schultz points out, which act on the brain to bring up specific associations, memories and emotions.
"And that's why a lot of traditional dishes often have very specific spices that are used," he says.
Rare Riches
It's partly just the rareness of a spice, and the novelty of it, that makes it special.
"If you've never had black pepper, you'd think 'this is amazing,'' and 'it's so aromatic, and it's slightly bitter,'" says Schultz. "Black pepper is the most common of the spices because it works really well for a lot of things."
This has been the story throughout history, when it often took a full year for a European spice caravan to travel to the Indies and back.
"Value was added every step of the way. Spices are the basis of all trade," he says, noting that the term "spice" originated to include not just foods but dyes and medicines and perfumes and silks.
"The quest for the origin of spices will take you quite swiftly around the world," says Liz Birnbaum, another one of Santa Cruz's great food historians, who often plunders the rich mythologies and historic origins of spices in her educational dinners with the Curated Feast.  "They launched ships and caravans, imperial campaigns and economic speculation. It is hard to overestimate the global trade and drama behind the black pepper which sits so unassumingly on your dining room table."
Indeed, the now-ubiquitous black pepper used to be worth as much as gold. Sugar, worth more than cocaine. And especially during the Elizabethan and Roman times, says Schultz, some dishes were very highly spiced—a way to show off your richness and worldliness.
Spice Queen
Sri Lanka is known to many as the cradle of the ancient spice trade, which dates back to even before the seventh century. To this day, spices remain a major export, says Ayoma Wilen, owner of the Sri Lankan restaurant Pearl of the Ocean.
Most notably, perhaps, is its Ceylon cinnamon. "There is another one in South Asia, and China has cassia cinnamon, but it's not as valuable," she says. "It's a real good cinnamon, and it cuts down the blood sugar in Ayurveda, and it cuts down the cholesterol."
Wilen, whose grandfather was an Ayurvedic doctor, approaches her menu from the Ayurvedic belief that food is medicine—and that balancing all of the six flavors is crucial to balancing the energies in the body.
"In a Western diet, compared to Eastern, they are really missing the bitterness in the diet, and then they get a craving for coffee, coffee, coffee," she says. "Because the human body needs all these flavors, including the bitter."
So she incorporates bitter vegetables like kale, and the exotic bitter melon fruit, which can be found at the Aptos Farmers Market. She also draws on a wide array of spices, including fresh lemon grass, cardamom (the queen of spices), gambooge, mustard and saffron.
Native to Southwest Asia, saffron consists of the pistils of the crocus flower. As it takes some 75,000 flowers to make a pound of saffron, says Schultz, it's the most expensive of today's spices. With a subtle but penetrating fragrance, saffron renders a beautiful yellow tint to its dishes. "It's like gold you're putting to a food," says Wilen, who uses it for its aroma along with ginger in her rice.
Like Schultz, Wilen values spices for the variation they can provide.
"Some people think that putting spice into food is using all the spices in the spice cabinet. But that will be overpowering," says Wilen. "Each dish has a different spice blend, and it will taste completely different."
Wilen chuckles long and hard when I ask her her favorite spice, but finallyanswers: ginger. "It's very healing, and I love the flavor and aroma," she says. But, she emphasizes not only using freshginger, but also using the skin, which many people throw away. "Ginger skin is very important," says Wilen. "It's OK to use the skin, the skin has more vitamins. Just wash it very well. The same thing with the potato."
---
 Caption: Chef Jozseph Schultz built this spice rack when he was a 19-year-old student at UCSC. It weighs in at 42 pounds and holds 68 spices. PHOTO: SASHA CHILDS