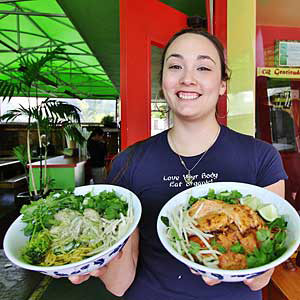 Candy Eleazarraraz serves up tasty Asian street food at Charlie Hong Kong. Chip Scheuer photo.

Just because you're feeling broke doesn't mean you ought to skip dinner.
These winners of the Cheap Eats category in the 2012 Santa Cruz Weekly Gold Awards Reader Survey serve up flavorful food, and lots of it, for under $10, proving that Santa Cruz restaurants can be as friendly to epicurean skinflints as to gourmet spendthrifts.
Charlie Hong Kong
The reigning bargain restaurant in Santa Cruz models itself after the street food stalls in the capitals of Asia. Base ingredients like rice or noodles are topped with plenty of steamed or wok'd fresh vegetables, and a protein source such as tofu, chicken or beef. A nice curry or peanut or garlicky chile sauce, and you've got yourself a tasty and nutritious lunch or dinner ($5.-$7).
El Palomar Taco Bar
Beyond the hustle and bustle of Palomar's lively cantina is the locals' secret for great, fresh, fast food on the cheap. While the badass ladies in hairnets make corn tortillas by hand for small but satisfying chicken, carne asada, snapper or shrimp tacos ($2.75–$3.50 each), diners feast on bowls of addictive chips and salsa and nurse cold cervezas and margaritas. The burritos here are easily an entire meal ($5­–$7).
Taqueria Vallarta
This is the classic Santa Cruz Mexican restaurant. Whether you're hungry for the sour-cream-and-guacamole-bathed version of the standard taco, burrito or other platos especiales, or for the more authentico variety (tripitas, chorizo, lengue), Taqueria Vallarta's big menu has it, starting at $2.75. They also serve fresh orange and carrot juice, as well as beer and wine, and are open 'til midnight seven nights a week.
India Joze
From 1972-1999, before "multicultural" was a word, Jozseph Schultz's India Joze served food from several continents with a California twist. After a hiatus during which Schultz operated a catering service, India Joze reopened in a new space on May 1, 2010. There you will find the flavors of India, Thailand, Vietnam, Persia, etc., including plenty of vegetarian options as well as lamb, chicken and fish. Entrees run $8-$13.
Santa Cruz Diner
There is a reason you see cars all over this town with a Santa Cruz Diner bumper sticker. In addition to the diner basics (pancakes, omelettes, burgers, soup) you will find a dinner specials (prime rib; salmon; cioppino) starting at under ten bucks. There are vegan options as well as beer and wine.