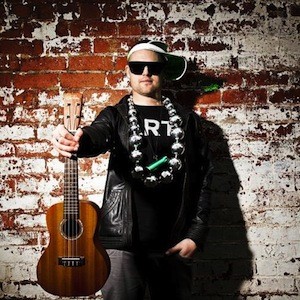 Opiuo performs at the Cocoanut Grove Monster Bash Masquerade on Halloween.
Halloween is all about candy and costumes and realizing that you should have really thought about that Walter White costume a little longer, because (a) everyone single person in your neighborhood also did a Breaking Bad costume, and (b) people think it's funny to give you only blue candy.
Still, there are plenty of places around Santa Cruz to get purer stuff on Halloween this Thursday, like downtown Santa Cruz, where businesses will be handing out candy to eager trick-or-treaters between 2:30pm and 5pm, which will leave parents plenty of time to get prepared for the night's Halloween-themed dance parties, which we'll get to in a minute.
Another trick or treating option is the Santa Cruz Wharf. The businesses there will be handing out candy between 4pm and 6pm, which means that resourceful parents can time it just right to take their kids to both trick-or-treat hot spots, for maximum candy action.
But it's not all tooth decay and Disney princesses. Locals can honor their friends and family with the Mexican tradition of the Day of the Dead at theSanta Cruz Museum of Art and History, which is hosting its annual Dia de los Muertos Community Ofrenda. Visitors are invited to bring a memento or photo of their loved ones and to leave it on the altar in remembrance. This year's display was created by students in Monarch Elementary School, Costanoa High School and YWCA Watsonville Teen Program. It's between11am-5pm and costs between $3-$5.
When the sun finally comes down and the kids are in bed, that's when the dancing begins. But where to start? The Cocoanut Grove is having its sixth annual Monster Bash Masquerade, which will feature a full night of electronic music. The performers include Opiuo (from Australia), Liberation Movement (w/ Gaga Giri, Shasha Rose, Plantrae), Vibesquad, Jpod the beat chef and Little John. The event is 21+ and tickets are $35 adv/$40 door. Doors open at7pm.
Rock and roll, on the other hand could make for an equally fun way to monster mash this Halloween. Hotel Paradox is transforming into the scary location for a big wild Halloween party. There's food, costumes contests, the whole works. Local blues rock group Stomping Grounds and San Francisco Stones-esque rockers Soft White Sixties will perform. Tickets are $25, and it starts at 8pm.
For the pure appreciation of great spooky music, the Crepe Place is having its unique Spooktakular event, where some local bands are dressing up as (and performing the songs of) their favorite Halloween-appropriate bands. Local garage rockers the Groggs will be Roky Erickson, while Rohan will come as Black Sabbath. Local musician Matt Wilson will be making a special appearance as Charles Manson. Have you ever heard Charles Manson sing "Home Is Where You're Happy"? Scary stuff! The show starts at 9pm. Tickets are $10.