Anthony Arya & Matt Hartle: Jerry's B-Day Live at Hallcrest Vineyards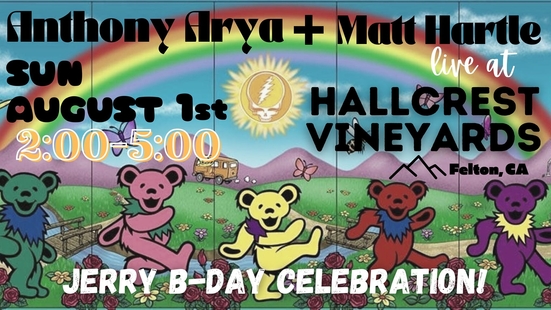 About Anthony Arya & Matt Hartle: Jerry's B-Day Live at Hallcrest Vineyards
All good things must come to an end! Just when you thought it couldn't get any better, for my LAST show of the Sunday Hallcrest Vineyards Series I'll be taking the stage with the one and only Matt Hartle to celebrate Jerry Garcia's birthday!! Bring family, friends, & Deadheads alike for an afternoon of live Dead music! Come drink some wine, eat some snacks, grab a table with your group or even set up your own picnic in the field, and enjoy the show!
Anthony Arya: https://www.anthonyarya.com/
Matt Hartle: http://matthartlemusic.com/

Guitarist Matt Hartle was born and raised in rural Pennsylvania, but his playing and his music resonate with a musical and cultural aesthetic that is pure San Francisco Bay Area. His playing exemplifies the uniquely American music form that had it's birth in the Bay Area during the late 1960's and early '70's - a fusion of blues, rock, folk, and jazz performed with an exploratory, and at times mystical, spirit and a penchant for genre bending and blending. His signature playing style is marked by an instantly recognizable fluidity and sonic intensity which ebbs and flows in organic currents. Ecstatically melodic themes can erupt into blistering torrents of blues-rock fury or devolve into mysterious, dissonant, yearning explorations, or placid contemplations of a multitude of colors, forms, textures and moods. It's no surprise that his fretwork has garnered favorable comparisons to such psychedelic guitar luminaries as Jerry Garcia, Carlos Santana, and Steve Kimock, as well as a host of more traditional fretboard icons, including Lowell George and Mark Knopfler. While constantly in-demand as a stage and session player throughout the Bay Area, Hartle is also a founding member and musical linchpin of no less than four, Santa Cruz-based bands: Shady Groove, Spirit of 76, Big Stone Soup, and Matt is the firebrand lead guitarist of The China Cats - the highly respected Grateful Dead tribute act and a Bay Area favorite.

Anthony Arya is a songwriter, guitarist, and vocalist and the leader of multiple bands. In 2018 Arya was on Season 15 of NBC's The Voice. Shortly after, he released his debut album, "Going To California," and has since performed hundreds of shows around the Bay Area. In June 2020 Anthony was awarded the Presidential Scholar in the Arts by the US Department of Education. In May 2020, Arya released his second album, "The Road." Last December, he released a live album of holiday tunes recorded last December. You can now listen & stream Anthony's latest project "Listen to the Voice of Anthony Arya" - a collection of tunes from his journey on The Voice available on all platforms!
Videos