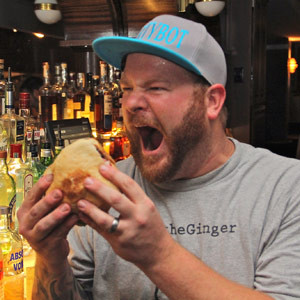 There's a lot to digest in the story behind Dax Swanson's rise to competitive-eating glory.
I'm sitting across a breakfast table from three Dax Swansons.
First, there's the man himself—the exuberant, red-bearded Santa Cruz native who all the waitresses know and admire. For it was here, at Harbor Café, that Swanson shoveled 8 pancakes into his mouth in 7 minutes, trouncing a cafeteria table full of competitors and winning his first competitive eating competition two years ago. A YouTube video of the proceedings exists, and in it Swanson is shown after his win rising above the crowd of about 50 with fire in his eyes, bringing his arms above his head like a Viking king and emitting a mighty roar of victory before accepting his trophy—a bong (the contest took place on April 20). A year later, Swanson was signed by the Major League of Eating. Today he is ranked 45th globally among competitive eaters.
The other two Dax Swansons are miniature silk-screened versions of himself that he is wearing—one on his sweatshirt, one on his knit hat. It's like eating with a human Cerberus, except he laughs a lot and eats pancakes professionally.
At 35, Swanson, who goes by "Dax the Ginger," says he always dreamed of going pro at something—as evidenced by his uniform, he has no shame when it comes to self-promotion—but his twenties were spent otherwise.
"I was too busy just being crazy," he says. "Creating stories I guess is what I was doing—being a madman."
Since winning the pancakes contest, he's gone on to compete in several official MLE competitions, including the fried asparagus competition in Stockton, and the Hooters chicken wings contest in Las Vegas. He also appeared last year on Stuffed, a competitive eating elimination series on the premium YouTube food channel Tasted, though he didn't win. But it's OK.
"I knew my role on the show was definitely to be much more personable than to be a stomach," he says.
At least as much as he likes food, and probably more, Swanson likes to entertain people. In one of his YouTube videos, "Dax the Ginger vs. a Jar of Peanut Butter," he sits alone on a couch and announces to the camera, "I'm gonna tear into this jar of peanut butter like a honey badger." It takes him just 10 minutes, but they aren't comfortable ones. "It feels like it's sticking to everything on the way down," he says halfway through, in between groans. "I don't think I've ever had to eat anything this difficult this fast…It's all for your enjoyment." The video has 536 views.
Indeed, the world of competitive eating isn't all fame and glory. Swanson tweets regularly about shitting his pants—about once a month. When I ask how often he actually does, he's uncertain.
"Not regularly. Semi-regularly," he says. "When you eat a lot of food, at certain points with certain foods, there's a chance—you're running the gauntlet sometimes."
He once bit his own finger during a chicken wing competition, a close call he recalls somberly, as if it was a run-in with a junkyard dog. "I got ahold of my finger pretty good," he says, "but I backed off." And at the deep-fried asparagus competition, a burnt piece cut open the roof of his mouth. He kept eating, but blood was coming out of his mouth at the same time he was putting more asparagus in.
"It turned out that I really do not like asparagus and asparagus does not like my body," he says.
But he doesn't mind learning the hard way.
"I'll try anything once," he says. "You know, that's for sure."