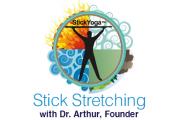 Edit
Arthur Faygenholtz, D.C. & Stick Yoga
Hours:
Mon-Sat:
9:00 am - 5:00 pm
/
About Arthur Faygenholtz, D.C. & Stick Yoga
Family & Sports Chiropractor, since 1980.
The latest in chiropractic adjustments~specialized instruments for many conditions.
Loving Hands & Laughter.
Founder & Leader of Stick Yoga for Total Body Fitness & Brain Health Seminars & Presentation
Dr. Arthur founded the Stick Yoga movement over 25 years ago in Santa Cruz. He has a strong following here, and in N CA. He has a unique approach to healing, and an engaging presentation style.
He sells a range of Sticks, DVDs and an e-book.