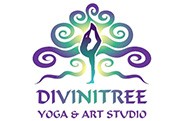 Edit
DiviniTree Yoga & Arts Studio
1043-B Water St
, Santa Cruz
, CA
95060
|
Directions
Hours:
Mon-Sun:
8:00 am - 8:00 pm
/
About DiviniTree Yoga & Arts Studio
DiviniTree is more than just another Yoga Studio, one reason our community is thriving here in Santa Cruz!
Come visit us on Water St. (at Seabright)

At DiviniTree we live in an abundance mentality and encourage you too as well. We are acutely aware of our good fortune and believe in sharing with others. When you give at DiviniTree you are supporting and becoming part of a network that provides yoga to people who otherwise might not have access to it. We currently offer a class a day where those who can???t afford our regular sliding scale can pay by donation. We also have and continue to donate our space for countless benefits by hosting benefit music events and yoga classes. Through our benefit yoga classes, our amazing teachers are able to raise money for important community services in a way that lets those who donate strengthen their body, warm their heart, and remember that helping others can truly feel great for the body and soul. Ask us how you can become more involved!
DiviniTree Yoga & Arts Studio Videos