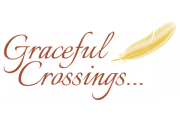 Hours:
Mon-Fri:
9:00 am - 5:00 pm
/
About Graceful Crossings
End of Life Navigator, Educator, Grief and Spiritual Counseling
Offering services for those diagnosed with a terminal illness, dementia and Alzheimers. Assistance with Advance Care Planning, treatment options and empowering death with dignity. As baby boomers age, we want to have choices and to be informed this is the mission of Graceful Crossings.