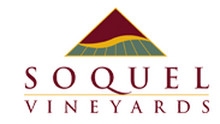 Edit
Soquel Vineyards
8063 Glen Haven Road
, Soquel
, CA
95073
|
Directions
Hours:
Sat, Sun:
11:00 am - 4:30 pm
/
About Soquel Vineyards
Soquel Vineyards has been creating award winning wines since 1987! Visit us to taste our delicious wines, chat with the wine makers and enjoy our incredible views of Monterey Bay! Cheers!
Located in beautiful Santa Cruz Mountains, Soquel Vineyards specializes in making quality wine sourced from the Santa Cruz Mountains Appellation and different regions in California.

Soquel??Vineyards is open for tasting on Saturdays and Sundays from 11:00am ??? 4:30pm??all throughout the year. Our winery is located in the??Santa Cruz Mountains, nestled on the crest of a hill??in the town of Soquel, California which overlooks the??spectacular Monterey Bay.

Soquel Vineyards' wines may be purchased on site or shipped directly to you for your convenience. Winemakers Peter, Paul, and Jon to invite you to visit soon!
Soquel Vineyards Videos