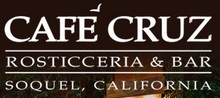 Hours:
Mon-Sat:
11:30 am - 2:30 pm
/
Sun:
5:00 pm - 9:00 pm
/
About Cafe Cruz
Cafe Cruz is a local dining destination for visitors and neighbors alike. Established in 1995, Cafe Cruz is known for its atmosphere, menu selections, and congenial staff.
The restaurant offers something extra for every event. The interior d??cor was designed to offer an open, festive and casual atmosphere. Guests appreciate white tablecloth service in the spacious dining room. A classic French made Rotisol rotisserie is in full view featuring natural meats and poultry. Chefs can be seen working their magic in the open copper-backed kitchen. The murals depicting local scenes are the work of local artist Terry Wells.

Visitors enjoy cocktails and appetizers in our bar featuring a distinctive adobe-style fireplace (the creation of artist/contractor Shan Gilmore). The bartop itself is hewn from a solid piece of California fir, tracing its history back to the old Bass Lake Hotel at the turn of the 20th century.

For those who prefer open air dining, Cafe Cruz's heated patio is just the ticket. The focal point of the patio is the beautiful Tuscan fireplace, surrounded by greenery and flowers. For banquets and other special occasions, the lush garden room with its distinctive waterfall fountain is an ideal choice.

Cafe Cruz began in 1995 as a partnership between Chef Steve Wilson, and Jerry Neilsen, former proprietor of the popular Grapesteak Restaurant (which was located in the building Cafe Cruz now occupies). Their combined vision created a lively and fun restaurant, featuring food using fresh, high quality ingredients. Steve's experience and love of cooking originated in Pennsylvania, Monterey and Santa Cruz establishments where he worked his way up in the culinary world.

In 2008, Jerry retired from the restaurant business and was bought out by Steve and his wife, Nikki Howe, to continue the tradition of creating pleaurable dining experiences at Cafe Cruz.
Articles mentioning Cafe Cruz
This is where to find not only the best dishes in Santa Cruz County, but the best restaurants for romance, great views and more.

Just in time for Valentine's Day, the top five date night restaurants in Santa Cruz, courtesy of the readers of Santa Cruz Weekly.
Cafe Cruz Videos